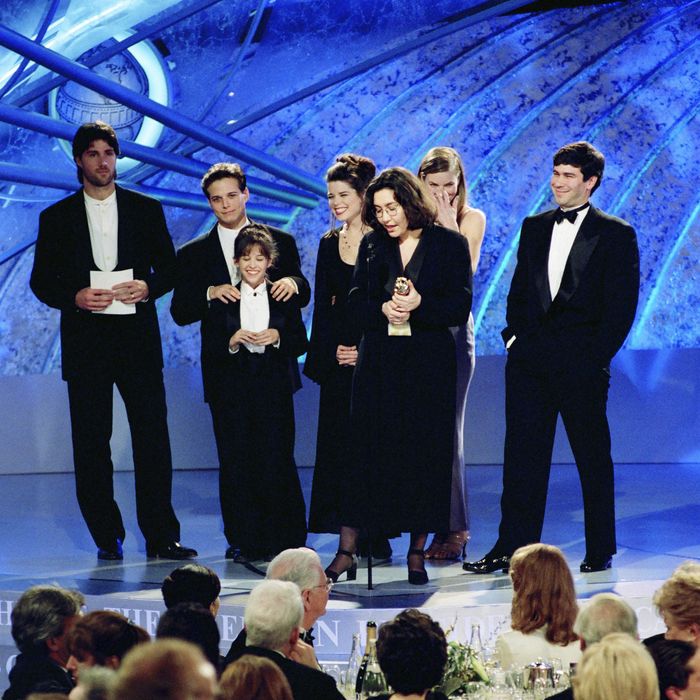 The cast and crew of Party of Five accepts their award for Best Television Series, Drama, at the 1996 Golden Globe Awards.
Photo: Joseph Del Valle/NBCU Photo Bank/Getty Images
There are many things to enjoy about the Golden Globes. Fancy outfits, celebrity drunkenness. They're more ribald than the Oscars, more unpredictable than the Emmys. But they're especially fun when you stop thinking about the Golden Globes as a TV awards show and start thinking of it as a cocktail party, and the shows and performances that are nominated are the ones that people are talking about most animatedly. Sometimes that means wonderful TV shows and performances earn a statuette, and sometimes it just means something buzzy or weird does. It's a strange little thrill. Parties are unpredictable, but as long as everyone had a good time, consider it a success.
Last year's Best Drama winner was The Affair. Now, I like The Affair, but it is not even the best drama about affairs that was nominated in the category (that would have been The Good Wife). It was not the most outstanding drama by any measure. (Even by rich-person-architecture standards — it was up against Downton and Game of Thrones.) But oh man, did people want to kibitz about that show. The prize was less "here you go, beacon of television excellence" and more the slightly sheepish, slightly scintillated smirk someone has when they ask, "So … have you guys seen that show The Affair?"
One of the fun aspects of writing about TV for a living is that people always want to talk to you about television. It's great. Oh, you know what I love right now? they say. Sometimes it's easy to guess the answer: For years everyone said Mad Men (which won Golden Globes in 2008, 2009, and 2010), and then for a while they said Homeland (2013 and 2014). Sometimes it'll be, You know what I heard was very good? Then it's usually a prestige-y show whose buzziest seasons have come and gone: The Good Wife, or Downton Abbey, each nominated a few times for not their best seasons. Would you like anything from the bar? Watching the Globes feels like reliving a year of good TV chitchat: Yes, Transparent really is good. Oh yeah, The Shield is amazing. Secretly many of us do in fact love Anthony LaPaglia on Without a Trace. Katey Sagal is really something on Sons of Anarchy.
The Globes love an underdog show, shows you can't really imagine nominations or wins for elsewhere. Beverly Hills, 90210 was nominated for best drama. Twice. Party of Five beat out ER and NYPD Blue one year. Nip/Tuck once topped The Sopranos and Deadwood. I deeply revere both those HBO shows, but by far the question I was asked the most that year was who I thought Nip/Tuck's serial killer was.
In addition to the fun-buzz choices, there are also the delightful surprises, the chatter about who you really think is great, who doesn't get enough credit — and that's where the Globes really shine: Claire Danes won for My So-Called Life, Keri Russell for Felicity, America Ferrera for Ugly Betty, Gina Rodriguez for Jane the Virgin. Ian McShane didn't win an Emmy for Deadwood, but he did win a Golden Globe.
This year's nominations feature that same mix of obviously praise-worthy top-shelf shows and performances — Veep, Jon Hamm — and more offbeat selections, the kind where a stranger overhears you talking about it and joins right in on the conversation because the truth is it is not that easy to find people who want to talk about Eva Green on Penny Dreadful. Wait, did you just mention the show Narcos? Let me pull up a chair. I loved Narcos.