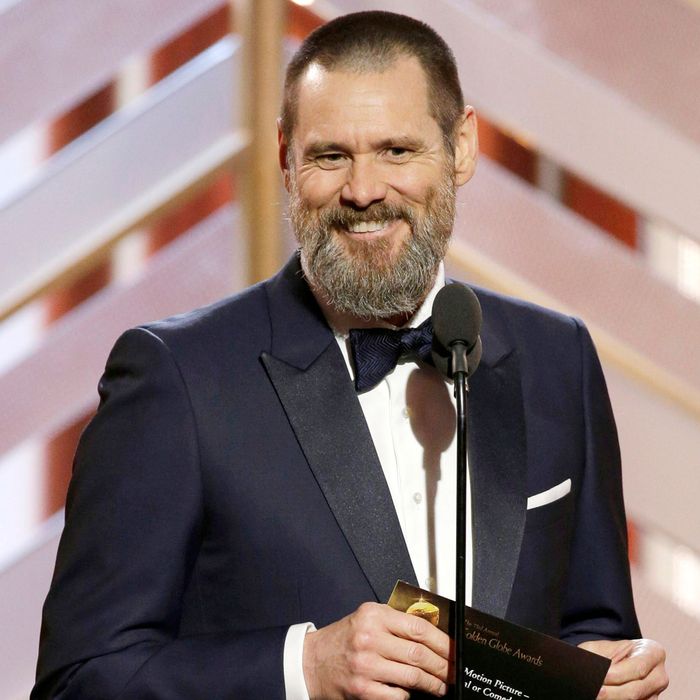 Jim Carrey at the 2016 Golden Globes.
Photo: Getty Images
I'm only half-kidding when I say that with each year, the awards season feels a bit more over once the Golden Globes have been handed out. In comparison, the Oscars don't feel stuffily formal; they feel like a formality — like the awards version of visiting Mom and Dad on a holiday rather than carousing with reprobate friends.
The Hollywood Foreign Press Association's yearly TV and film awards started out un-serious — basically an excuse for accented entertainment reporters to get their pictures taken with stars, as more than one presenter (including lifetime achievement winner Denzel Washington) observed last night. Over the last couple of decades, the group has given out some of the most hipster-ish awards of any televised ceremony; laugh all you want, but they've often identified quality that the Emmy or Oscars couldn't see, as when they nominated Buffy the Vampire Slayer's Sarah Michelle Gellar as Best Actress in a TV drama (something the Emmys never did). So: Mozart in the Jungle takes Best TV Comedy and Best TV-Comedy Actor, and Crazy Ex-Girlfriend's Rachel Bloom gets Best Actress in a TV Comedy? Absolutely — and even if you don't agree, it's better than showering more awards on Modern Family. Mr. Robot as Best TV Drama, and its co-star Christian Slater as Best Supporting Actor in a Drama? Why not? It's a cool, great-looking series that feels genuinely new. And how about The Revenant over critics-group darlings Spotlight or Mad Max: Fury Road? Sure, go ahead — and throw in The Martian as Best Comedy while you're at it!
This is the kind of awards show where Taraji P. Henson, who plays a character named Cookie on Empire, can give out cookies en route to accept her statuette as Best Actress in a TV Drama, then mock-snarl at an usher to "Get off my train!" and it feels utterly correct for the venue. This is the sort of telecast where not even The Hateful Eight auteur Quentin Tarantino can make too much of an ass of himself, even when he's Quentinsplaining the importance of Ennio Morricone's career to members of the Hollywood Foreign Friggin' Press Association and blithely trotting out the word "ghetto" to describe the musical niche he thinks film composers are trapped in, during a season when he's caught still more heat for using the N-word. ("Ghetto," Best Original Screenplay co-presenter Jamie Foxx deadpanned, passing judgment on the word through the simple act of repeating it.)
Over the years, the HFPA somehow became known as a predictor of the Oscars, even though its success rate varies drastically from category to category and is artificially improved by dividing the Oscars' "Best Picture" into "Best Drama" and "Best Comedy or Musical"; but despite its rise in prominence, the HFPA still built self-mockery into its very existence.
It's now hard to imagine a Globes telecast that doesn't have a wiseass like Ricky Gervais as host. He did his fourth stint last night and was the best he's been, cheeky from start to finish but rarely knife-twist snarky — except with people like Mel Gibson, who are in no position to complain about anyone's tone. ("What the fuck does 'sugartits' even mean?" he asked Gibson, a reference to his traffic-stop tirade that was bleeped by producers but caught by lip-readers.) There were lots of probably-alcohol-lubricated moments in which stars appeared to have misplaced their acceptance speeches and/or glasses, and forgot to thank key collaborators or say their spouses' names. Lady Gaga's tremulous acceptance as Best Supporting Actress in a TV Drama (for American Horror Story: Hotel, about which the less is said, the better) was so intense, you worried the winner was mentally imploding.
But for the most part, the presenters' mix of collegial affection and (mostly) affable needling encouraged honorees to feel pride, but not too much vanity. The Globes introduces its yearly lifetime achievement award with a presentation so grandiose that they might as well follow it up by putting the honoree on a raft, setting him ablaze, and pushing him out to sea; but the deprecation and self-deprecation usually keeps things on the right side of maudlin. Tom Hanks's introduction of this year's honoree, Denzel Washington, seemed to be preparing the star to have his visage chiseled on Mt. Rushmore, but Washington's acceptance speech (delivered alongside his family, and sans notes or reading glasses) kept things from getting excessively monumental.
Jim Carrey's intro for Best Comedy or Musical was a little masterpiece of perspective realignment, putting the whole evening in context by reminding winners and competitors alike that it's not merely awards like these that are ultimately puny in the greater scheme, it's human existence itself. As Carrey spoke, grinning wickedly through a gnomish beard, the show director kept cutting to Washington again. He wore roughly the same expression as when Hanks waxed rhapsodic about his long career in show business. He was grinning. His eyes said: This is ridiculous. Please, continue.