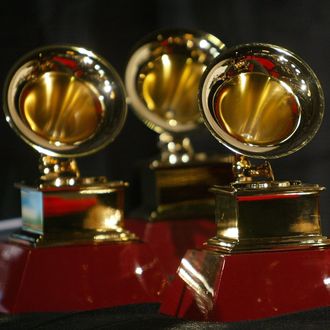 Photo: Frederick M. Brown/Getty Images
For the last few years, most major awards shows — including the Oscars, the Emmys, and the Golden Globes — have been broadcast live to both coasts, with one big exception: the Grammys. Viewers in Los Angeles and other western cities have had to wait three hours to check out music's biggest honors. But that's finally changing, at least for 2016. Vulture hears CBS, as part of a one-year experiment, will give its stations in the Pacific and Mountain time zones the option of carrying the February 15 Grammys live as it happens. The Eye network isn't making the live telecast mandatory, but it seems likely most outlets will take advantage of the opportunity. Indeed, network insiders tell us strong interest from West Coast stations is what encouraged CBS execs to agree to the test.
While the Oscars have been seen live across the country for decades, other shows remained tape-delayed to the West Coast until 2009. That's when NBC, for the first time ever, aired the Golden Globes live across the country. The next year, the Emmys followed suit. The thinking among networks was that, in the age of social media, it didn't make sense to have Twitter and Facebook exploding with comments about the show, while a big chunk of the country couldn't watch. CBS execs for years have discussed a similar shift with the Grammys but resisted, in part because the performance-driven nature of the show — people tune in for the singing more than the awards themselves — made a live telecast everywhere less of an imperative. What's more, until 2015, ratings kept going up for the Grammys; CBS suits weren't eager to mess with a winning formula.
All of this may explain why CBS is approaching this year's live-everywhere telecast as an experiment: If West Coast numbers take a hit, it's quite possible the Eye will reverse course next year. Judging Grammy ratings could be a bit tougher than usual this year, however, because the show is being held on a Monday rather than the Sunday-night berth of recent years. CBS and the Recording Academy opted for the date change in order to avoid having the telecast air on Valentine's Day and in the middle of a three-day weekend (Monday is President's Day). Shifting to Monday also means avoiding both the NBA All-Star Game and the midseason premiere of The Walking Dead.