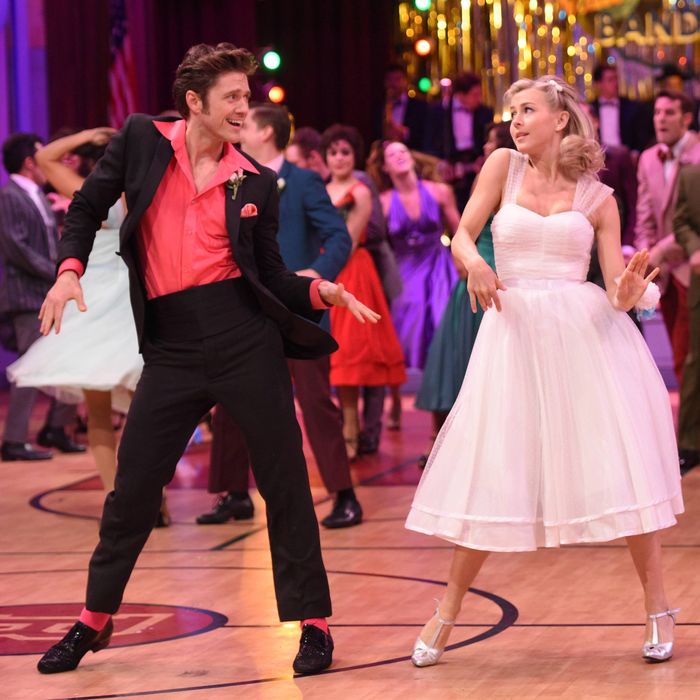 Stick to singing and dancing, you two!
Photo: FOX
Grease: Live, you came out of nowhere and made the live network-TV musical format seem a little more vital. Fox's musical event had its share of boring stretches, but it also had fun with the weird little genre, filming all over a Hollywood lot with a dizzying number of camera-pans. From the sweet sounds of a live studio audience's applause to the jaunty curtain call, everyone looked like they were having fun, and what a different that makes.
HIGH: The use of space.
Live TV has been around for a while, but no one has taken advantage of the format quite the way Grease: Live did. Led by director Thomas Kail (Hamilton), the camera-pans in this production brought you into the show in a way that felt truly immersive, not to mention the fact that it filmed on multiple stages, both indoors and outdoors. Kail expertly weaved between locations and gave the show a real sense of space, energy, and movement. All hail Kail!
HIGH: The highs felt really high.
And this was in large part due to the live studio audience, which acknowledged when a number hit the mark. Finally.
LOW: The jokes just did not land.
The book is not Grease's strong suit, and even with a live audience, many of the punch lines hung awkwardly in the air.
LOW: Julianne Hough and Aaron Tveit's scenes where they had to speak words to each other.
Maybe stick to singing and dancing?
HIGH: Doody 2.0.
Your new crush Jordan Fisher first stole our hearts as the illegitimate child of a shady doctor on The Secret Life of the American Teenager. Now he's back melting hearts with a swoon-worthy acoustic upgrade of "Those Magic Changes." Doody, you've never been cuter. (No offense, Barry Pearl — your cameo was great, too!)
LOW: Where's Rachel Bloom?
Note to live-TV producers: She should be in every live-TV musical henceforth.
LOW: Carly Rae Jepsen's solo.
Carly Rae sounded like an angel, but this new addition felt like it belonged in a Disney princess movie, not the extremely sexual musical Grease.
HIGH: Didi Conn's perfect return.
What a delight to see the O.G. Frenchy, Didi Conn, not only make a cameo but play the same waitress at the Frosty Palace who comforted a sad, cotton-candy-haired Frenchy (now Carly Rae Jepsen) all those years ago. And when she squealed "I miss high school!" during the hand-jive scene, then wore her Pink Lady jacket for the curtain call: All the feels.
LOW: No "Mooning."
Why cut "Mooning" only to replace it with undesirable new songs?
HIGH: "Freddy My Love."
It's easily the least fun song in the show, but it had all the big razzle-dazzle moments: a jaw-dropping set change, cleverly engineered costume switches, and a stellar performance from Keke Palmer. "Freddy My Love," we love you more than words can say.
LOW: Technical difficulties.
Live TV will be live TV, and Grease: Live had its hiccups. Mother Nature made it rain, but more distractingly, the broadcast was plagued with sound issues, from the sound going out for a few seconds to a bit of microphone static during Julianne Hough's big "Hopelessly Devoted to You" solo. But good on them for powering through the blips.
HIGH: Vanessa Hudgens's performance.
Hudgens was in her element as Rizzo, alternating skillfully between acid-tongued and vulnerable. She stole every damn scene she was in and capped it off with an A+ solo number.
LOW: Mario Lopez's bumper segments.
Must we Ryan Seacrest every moment of our lives?
HIGH: The peeks behind the curtain.
One of the nice things about a television theatrical production is the opportunity to show viewers what they wouldn't be able to get at the theater — a peek behind the curtain. Grease: Live essentially let us Periscope with the cast and see how the sausage was made. After the incredibly quick costume changes during Keke Palmer's runway number, Twitter lit up with people asking, "What witchcraft is this??" During commercial breaks, we found out how costume designer William Ivey Long worked his magic: snap on, snap off.
LOW: Golf carts, really?
While we're all for the cool behind-the-scenes explainers, let's maintain some TV magic. Maybe due to the rain, part of the big finale took place in the school's gym, but it eventually ended up at a big-budget carnival faithful to the film's closer. We so didn't need to see all the actors driven to that set on golf carts, especially if none of them were prepared to fly.
HIGH: The bows.
The final moments of the broadcast gave us a charming curtain call (even if it took a golf cart to get there), which felt like the only possible conclusion to a broadcast so ebullient and collaborative. If only the real star, director Tommy Kail, had taken a bow.