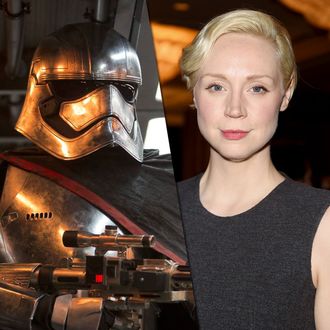 Photo: Lucasfilm; Jason Merritt/Getty Images
Spoiler, for the four people who haven't seen The Force Awakens yet.
Despite her apparent demise in Star Wars: The Force Awakens, actress and prominent bear wrangler Gwendoline Christie will reprise her role as Captain Phasma in Rian Johnson's installment of the series. Speaking with People at the 2016 SAG Awards, Christie said: "I will be in the next Star Wars movie. I think that's an exclusive, actually." With her 6'3" frame and imposing on-screen presence (as Game of Thrones fans know), Christie made Phasma, who was slated to be a man until about three weeks before principal photography began, a force to be reckoned with. Just as dangerous as Kylo Ren, but less emo.