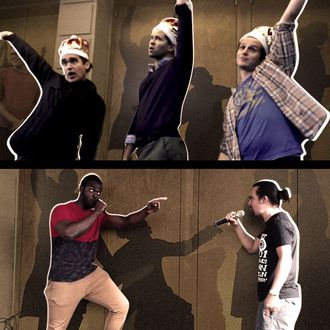 Photo-Illustration: Vulture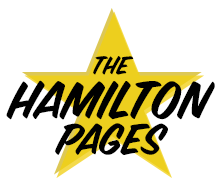 January 11 is Alexander Hamilton's birthday. In lieu of a 261-candled cake, we're celebrating with a weeklong series that explores the production and significance of the Founding Father's eponymous Broadway musical.
For any other Broadway production, last week's news that the preshow ticket lottery was being moved online might go unnoticed. But for Hamilton, it marked the (temporary) end of a series of short-and-sweet street performances that have come to be known (and hashtagged) as Ham4Ham. Spearheaded by Hamilton creator/star and unabashed theater geek Lin-Manuel Miranda, the shows are an eclectic grab-bag of a cappella tunes, elaborate lip-syncing, role-swaps, mash-ups, inside jokes, and special guest performances intended to lessen the disappointment of the lottery entrants who will walk away from the Richard Rodgers on 46th Street empty-handed.
The haphazard nature of the #Ham4Ham experience has made it a little tricky for non-fans to follow, but thanks to arts administrator Howard Sherman's dedicated front-row videography and blogs like The Federalist Freestyle rounding up footage from social media posts, these bite-size morsels of DIY theatrics will live on long past the announcements of the winning lotto participants' names. Below, a compendium of the first six months of Ham4Ham shows, sorted by chronology and categories, starting during Hamilton's Broadway previews back in July. These are likely to be the last Ham4Hams that take place outside, before the preshow debuts online.
July 15: Miranda and Jon Groff revisit the parody rap "Heights Cool Musical Too" that Miranda wrote in 2007 to promote In the Heights. Check out the unintentional foreshadowing in the lyrics: "Wore these pants and I'm willin' to dance / Like an idiot if ya just gimme the chance / To just plug my show and reach the people / Bust my flow cuz the flow is lethal." Watch it here, and if you haven't yet seen the original video, in which Miranda's parodies Zac Efron's golf-course dance routine by parkouring through Central Park, by all means, watch that too.
July 16: Hamilton's musical director and conductor Alex Lacamoire shows off his uncanny melodica skills. Super Mario Bros.! "Bohemian Rhapsody"! It's all here. (Watch it here.)
July 17: Miranda and Daveed Diggs swap roles for the rap battle "Cabinet Meeting #1." This one's juicy, of course: Jefferson and Hamilton debate Hamilton's plan to assume states' debts and establish a national bank.
July 18: Anthony Ramos sings his audition song, Bruno Mars's "Grenade." It's one of those songs everyone thinks they can sing well, but for real, Ramos can sing it well. Obviously — he got the part. (Watch it here.)
July 18: Miranda answers audience questions using only lyrics from Les Misérables. "What's the best thing to do in New York?" "… Lovely ladies."
July 20: Renée Elise Goldsberry raps George Washington's verse from "Right Hand Man," normally performed by Christopher Jackson
July 22: In honor of composer Alan Menken's birthday, Miranda and ensemble members Thayne Jasperson and Ephraim Sykes prime the crowd for revolution with "The World Will Know" from Newsies.
July 23: Phillipa Soo sings Beyoncé's "Halo" while accompanying herself on ukulele.
July 25: Miranda answers more audience questions, this time using only lyrics from A Chorus Line.
July 25: Okieriete Onaodowan sings "Defying Gravity" from Wicked … as Mickey Mouse.
July 27: Ensemble member Thayne Jesperson's birthday gift: switching roles with Miranda for their Act I duel/duet "Farmer Refuted."
July 28: Ensemble member Betsy Struxness takes on the Hercules Mulligan verse from Act I's "Yorktown." It's usually performed by Okieriete Onaodowan.
July 31: Ensemble members Ariana DeBose, Sasha Hutchings, and Stephanie Klemons break out their moves for a "Freestyle Friday" dance party.
August 1: Karen Olivo joins her old In the Heights castmates Miranda, Jackson, Jon Rua, and Javier Muñoz for the second half of "96,000." Tony winner Olivo, who played Heights' gorgeous dreamer (and Miranda's character's love interest) Vanessa, technically retired from performing in 2013. Watching her pick up a mic in midtown again is pretty magical.
August 3: Choreographer Andy Blankenbuehler demonstrates some of Hamilton's key dance moves and explains their origins.
August 4: Renée Elise Goldsberry, Phillipa Soo, and Jasmine Cephas Jones sing Alicia Keys's "Fallin'." If the whole Hamilton thing doesn't pan out, this trio should absolutely consider a Destiny's Child–esque partnership.
August 5: Understudy Emmy Raver-Lampman sings "White Boys" from Hair. Helpful backing vocals are provided by Jon Groff, who starred as Claude in the Public Theater's 40th-anniversary production of Hair in 2007.
August 5: For the last #Ham4Ham of Hamilton's previews, Daveed Diggs takes the mic to perform one of his own raps.
August 6: To commemorate the opening night of Hamilton, Miranda reads a passage from the Ron Chernow–penned biography that started it all. It's unexpectedly emotional.
August 8: Leslie Odom Jr. sings a silky-smooth cover of Audra Mae's a cappella take on Bob Dylan's "Forever Young."
August 15: Broadway's first black Jean Valjean (and the show's youngest ever), 21-year-old Kyle Jean-Baptiste, stops by for a Les Misérables "Confrontation" with Miranda. When Jean-Baptiste died suddenly in an accident just a few weeks later, Miranda shared screenshots of their direct-message conversation on Twitter: "He said yes to my DMs that same day. Fearless."
August 19: Spring Awakening's original star Jon Groff welcomes fellow alumni Andy Mientus and Krysta Rodriguez for a rendition of "Totally Fucked." Currently starring in the Deaf West revival of the show, Mientus and Rodriguez cleverly incorporate ASL into the song to keep from yelling obscenities at the tourist-filled street.
August 21: Standby Alysha Deslorieux performs her audition song, Mariah Carey's "Always Be My Baby." Talented standbys are a necessity in live theater, but pipes like these deserve a starring role in something as soon as possible.
August 22: Fun Home's Beth Malone and Roberta Colindrez join Miranda to rap show-opener "Alexander Hamilton." Keep your ears open for the Fun Home lyric shout-out.
August 26: James Monroe Iglehart, Aladdin's Tony-winning Genie, performs "Make Them Hear You" from Ragtime.
August 28: Beatboxer Shockwave, who, along with Miranda, performs in the hip-hop-improv group Freestyle Love Supreme, shows off his impressive skills while Miranda raps overtop.
September 2: Kelli O'Hara, beatific Tony-winning star of The King and I, covers both "Somebody Somewhere" from The Most Happy Fella and LL Cool J's "I Need Love," because why not. You can practically see Miranda's Disney-prince eyes going heart-shaped during O'Hara's performance.
September 5: Matthew Morrison, who's about to finish up his run in Finding Neverland, returns to his dreamy pre-Glee faux-Italian accent with "La Passeggiata" from The Light in the Piazza. Aww, remember pre-Glee Matt Morrison? Those were the days.
September 9: Fun Home's multitasking ensemble member Joel Perez remixes the show's "Changing My Major" with help from co-star Roberta Colindrez. Perez was part of the first national tour of In the Heights, so he and Miranda have history.
September 11: Stage manager Jason Bassett calls the technical cues for "Ten Duel Commandments" while the cast runs the number. What better way to underline the complexity and necessity of stage-managing than by showing it in the context of an actual performance?
September 12: Rapper Watsky swings by to drop some bars. Miranda loves it so much, he kicks his shoe off at the end. Huzzah!
September 16: Oak's Mickey Mouse voice returns, this time for "Over the Moon" from Rent — complete with cowbell.
September 19: Steven Pasquale, lustworthy lead of the Über-romantic Bridges of Madison County, croons Tyrone Wells's "Arms Around Me."
September 23: Phillipa Soo and Andrew Chappelle, both of whom played Pippin's Leading Player in high school, sing "Magic to Do." Ariana DeBose, who actually played the Leading Player on Broadway, offers some interpretive dance in the background.
September 26: Ryann Redmond joins Ariana DeBose for Chaka Khan's "I'm Every Woman." The pair co-starred in another of Miranda's projects, 2012's Bring It On. This performance is … a little rough, so they were quick to record and upload a more polished version from inside the theater afterward.
September 30: Stephen Trask, the composer and lyricist who gave us Hedwig and the Angry Inch, sings "Wicked Little Town."
October 3: Pint-size YouTube sensation Iain Loves Theatre raps BOTH PARTS of "Cabinet Battle #1."
October 7: Laura Benanti's deliciously jazzy take on My Fair Lady's "I Could've Danced All Night" gets a beat courtesy of tap-dancer Jared Grimes. In a DIY "let's put on a show!" move, the #Ham4Ham staff throw down a board for Grimes to tap on and amplify him with a handheld mic.
October 10: Fans compete to see who among them can best tackle Lafayette's tongue-twisting rap from Act I's "Guns and Ships." Miranda sourced the competitors on Twitter. Watching his delight as total amateurs bravely take on his mile-a-minute lyrics is almost as good as watching the winner totally nail it.
October 11: Assistant company manager Kaitlin Fine sings "Our Children" (from Ragtime) with duet partner Jon Groff. Assuming the roles of their boisterous children are Miranda and Okieriete Onaodowan; both are clearly thrilled for an excuse to skip around together.
October 15: Jasmine Cephas Jones and Anthony Ramos duet on Jordin Sparks and Chris Brown's "No Air." The fiery pairing prompts Miranda to suggest that the audience "fire up your slashfic on your internet," which is a very sweet misunderstanding of the phrase slashfic.
October 17: The NYC Ballet's Tiler Peck, Robbie Fairchild, and Justin Peck perform a routine.
October 21: Betsy Struxness welcomes the cast of Dames at Sea (Mara Davi, Lesli Margherita, and Danny Gardner) to perform a tap/rap/sing-along version of "Row, Row, Row Your Boat."
October 24: Hamilton's three King Georges — Brian D'Arcy James (who played the role in the Off Broadway run), Andrew Rannells, and Jon Groff — lip-sync as "the Schuyler Sisters" with Renée Elise Goldsberry taking over as Aaron Burr. Shantay, you stay, boys.
October 28: Christopher Jackson sings the national anthem. After Jackson sang the anthem at the Mets game that propelled the team to the World Series, not even Yankees fan Miranda could pass up the chance to continue the good-luck streak.
October 31: Halloween Ham! After handing out prizes to fans in costume, Miranda does a little "Thriller" with Ephraim Sykes and Seth Stewart. Miranda helpfully explains a group's costumes ("We're Hamilton trash!") to the rest of the crowd: "The kids, when they like something on the internet, they call themselves the trash of the thing." (Check out the full list of costumes, too.)
November 7: Spoken-word poet Sarah Kay performs a piece inspired by the Schuyler Sisters.
November 11: The one and only Lea Salonga, currently headlining Broadway's Allegiance, duets with Miranda on "A Whole New World" from Aladdin.
November 13: New cast member Daniel Watts introduces himself with an original piece.
November 14: A handful of kids from Fun Home, including Tony nominee Sydney Lucas, perform li'l rap verses from the perspectives of Hamilton children who weren't depicted in the musical. Miranda later posted the full lyrics, co-written with Morgan Marcell, on Tumblr. Now, that's #Ham4HistoricalAccuracy.
November 14: The Broadway Inspirational Voices stop by for a powerful performance of "Hark! The Herald Angels Sing."
November 20: Angelo, the Richard Rodgers Theatre's "stage-door guy," takes on Slick Rick's "Mona Lisa" with help from Miranda.
November 21: Cast members from Broadway's On Your Feet join Miranda for a performance of "Carnaval Del Barrio" from In the Heights. The indomitable Andréa Burns is reason enough to watch.
November 25: Alexander Koblikov from Big Apple Circus does an interpretive juggling routine set to "Ten Duel Commandments."
November 27: Allegiance's George Takei gets backup from his company on a hip-hop take on their show's "Gaman."
November 28: The show's third King George III, Andrew Rannells, bids farewell with one of his audition staples, Jersey Boys' "Cry for Me." Rannells (a Tony nominee for The Book of Mormon) popped into the part for five weeks while Jon Groff was away filming the finale movie of HBO's Looking.
December 1: In honor of World AIDS Day, Doreen Montalvo from On Your Feet sings the full version of "Siempre," a song sliced 'n' diced for use in In the Heights.
December 5: Stripped-down cabaret performers the Skivvies jam to an equally stripped-down medley of Outkast tunes.
December 9: A magnificently dressed Billy Porter sings "Have Yourself a Merry Little Christmas."
December 12: The show's orchestra steps out from the pit to play a medley of "playoff music" led by Alex Lacamoire. The music is heard at various points throughout the show but wasn't recorded for the already-stuffed cast album, so this one's a treat.
December 16: Norm Lewis uses his rich baritone to warm up the crowd with "Stars" from Les Misérables.
December 19: Shockwave returns — with Wayne Brady to freestyle with Miranda, Christopher Jackson, and Daveed Diggs.
December 23: Renée Elise Goldsberry, Phillipa Soo, and Jasmine Cephas Jones serenade the crowd with "Silent Night." Seriously, y'all, think of the Christmas album!
December 26: It's #Fam4Ham as Miranda's dad, Luis Miranda Jr., sings a lovely rendition of "En Mi Viejo San Juan" with his son. Lin-Manuel later tweeted, "Like the kids say, my dad is so smol."
December 27: The cast of Classical Theatre of Harlem's The First Noel performs a gorgeous gospel arrangement of their namesake carol.
December 30: Samantha Massell, Melanie Moore, and Alexandra Silber, currently playing Tevye's daughters in the Fiddler on the Roof revival, serenade Miranda with an updated version of "Matchmaker." "Lin-Manuel, Lin-Manuel, make no mistake / We'll be the Schuylers when they take a break / The truth is that we are just longing to be / Angelica, Eliza … and Peggy."
January 2: SNL's Taran Killam shares "12 Facts of Hamilton Not Covered in the Show." Spoiler alert: Very few Hamilton facts were left out of the show.
January 3: The ladies take over for a full performance of "My Shot" — no dudes allowed. Miranda promised to pull out all the stops for what was intended to be the last outdoor #Ham4Ham before the lottery went digital. The cast: Sasha Hutchings as Burr, Morgan Marcell as Hamilton, Jasmine Cephas Jones as Laurens, Renée Elise Goldsberry as Lafayette, and Betsy Struxness as Hercules Mulligan, with music from Alex Lacamoire and the #Ham4Ham band.
January 6: Ensemble member Sydney James Harcourt warms things up with "[Hamilton] Fever" in the first outside performance after the online lotto was overwhelmed by entrants and crashed in its debut. Miranda: "And the only way to cure fever …" Someone in the audience: "MORE COWBELL!"
January 9: On the fifth anniversary of In the Heights' closing performance, original cast members Christopher Jackson and Mandy Gonzalez re-create their duet "When You're Home." Alex Lacamoire handles the instrumentation, and Jon Rua provides a little dance break.