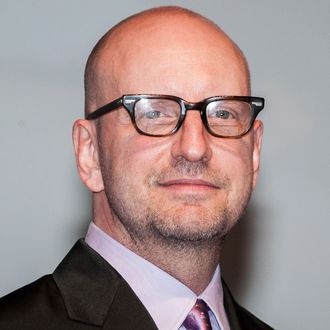 Soderbergh.
Photo: Francois Durand/Getty Images
It's probably impossible for a mere mortal to approach the level of artistic knowledge Steven Soderbergh has amassed in his 52 years (that we know of) on earth, but if you want to try, you've got a great mentor in Soderbergh himself. Every January, the director records every bit of pop culture he experienced in the previous year, so you can try your hand at duplicating his intense regimen. How intense is it? Last year's list includes 100 films, dozens of television shows, and even a few novels. Many of last year's lessons for doing culture the Soderbergh way — Be a Polymath, Incorporate Fun Themes, Plan Interesting Double Features — still apply, but the 2015 installment comes with a few new wrinkles. Follow these rules and you too can be like Soderbergh (without even having to shave your head).
Support New and Interesting Films by Seeing Them More Than Once
In previous years, Soderbergh would often return to classic films again and again. He continued that pattern in 2015 by seeing All the President's Men three times, but in a new twist, he also did it for new releases, screening film-blog faves Ex Machina and Mad Max: Fury Road two times each. It seems like Soderbergh enjoyed Imperator Furiosa just as much as you did.
Sample All Sides of a Genre
Last year was a big one for true crime, with The Jinx and Making a Murderer following in the wake of Serial to create a trio of pop-cultural phenomena. Soderbergh was a diligent viewer of The Jinx (he appears to have caught the show's infamous finale live), but he also made time for some true-crime stalwarts that have flown under the chattering class's radar: Nearly every weekend, he was a dutiful viewer of Dateline, 48 Hours Mystery, and Dateline: Sunday.
Know Your Amys
A faithful fan of Inside Amy Schumer, Soderbergh caught her HBO special Live at the Apollo on November 17, the same day he watched Amy, Asif Kapadia's Amy Winehouse documentary. Talk about an Amy-zing day.
When You're Making a Movie, Don't Go Down to the Wire
Soderbergh didn't direct Magic Mike XXL, but he did edit the film and serve as its cinematographer. And yet, despite the fact that the movie came out in July, Soderbergh's last viewing of the film was in February. This one probably doesn't apply to you specifically (but if it does, congratulations on directing a feature film!), but it's an important example of the importance of putting things to bed long before you have to.
Support Your Pals
Soderbergh is bros with David Fincher, and in 2015 he treated himself to viewings of Fincher projects like House of Cards and The Game, and checked in on Fincher's aborted HBO series Utopia in January, seven months before it was canceled over budgetary concerns. (The diary, alas, doesn't offer any more details than that.) And in November, Soderbergh enjoyed a night at the theater to see Knick star Clive Owen make his Broadway debut in Harold Pinter's Old Times.
The Holidays Are for Movie-Bingeing
Have you ever tried to see three movies in one day? Like eating large amounts of turkey and stuffing, it's a feat of pleasurable endurance best attempted around the holidays. In December, Soderbergh hunkered down for some delightful triple features: Christmas Day brought Double Indemnity, Scrooge, and Wonder Boys, while Boxing Day saw him screen The Inheritance, Murder on the Orient Express, and Finders Keepers. Merry Christmas to all.