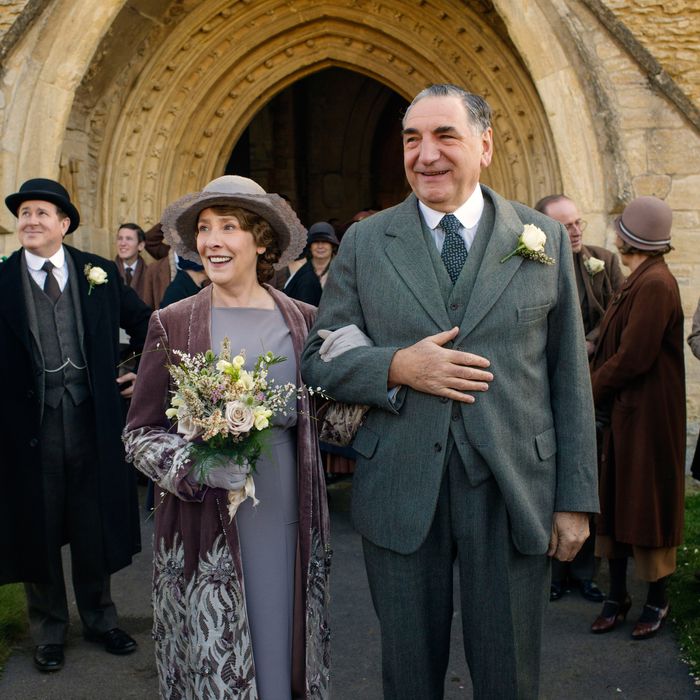 Phyllis Logan as Mrs. Hughes and Jim Carter as Mr. Carson.
Photo: Nick Briggs/Carnival Films
The slow-burning romance between head housekeeper Mrs. Hughes and butler Mr. Carson has proved to be one of the most pleasantly unexpected developments on Downton Abbey in recent memory — might we suggest the nickname "Hughson" from now on — and their sweet courtship culminated on Sunday night with a well-attended church wedding and schoolhouse reception in the local village. Despite some brief misgivings from Mrs. Hughes earlier this season (one word: sex), the affectionate ceremony went forward without a hitch, and even featured the return of Tom Branson and his daughter, Sybbie, from their stint in Boston.
"We approached it just like we do all of our scenes together, but I think Jim [Carter] could let his guard down a bit more than normal and actually have a smile on his face," Phyllis Logan told us when we asked about the wedding scene. "Which he truly did. We didn't discuss it much because the actual wedding sequence wasn't very long or intricate; it was very straightforward. But obviously our characters would be slightly nervous about embarking upon this romance at their late stage in life. We took all of that into account, but it was a very fun day." Logan added a personal touch to the ceremony: hair ribbons for the flower girls. "I bought a whole load of little round hair ribbons for my handmaidens. So everyone was sporting those," she said. "The boys were rather put out, but I saw a few boys on the crew wearing them."
If Downton has taught us anything, though, don't expect smooth sailing for the newlyweds. "They're proceeding to go to their honeymoon in Scarborough, and we await to see if Mr. Carson lightens up at all after his wedding and honeymoon. Knowing Mr. Carson, he might not," Logan says with a laugh. "They're still very much the way they were before, except obviously there's more of an intimacy now. I think she matches him well and helps him not be so curmudgeonly. Their relationship was a very pleasant surprise. It was nice that they eventually did get around to hitching up together."
All hail Downton's newest power couple, reigning over the estate with an iron hand and a warm heart.
Downton Abbey airs on Masterpiece on PBS.