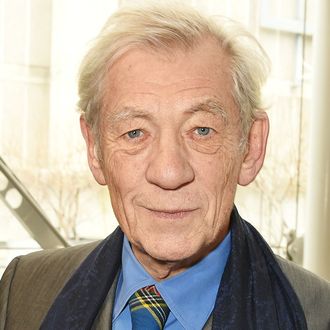 Sir Ian McKellen.
Photo: David M. Benett/Getty Images
Race isn't the only dimension to be thinking about, says two-time Academy Award nominee Ian McKellen, commenting on the controversy that the Academy had nominated only white actors for the second year in a row. "As a representative of the industry they're in, it's receiving complaints which I fully sympathize with. It's not only black people who've been disregarded by the film industry, it used to be women, it's certainly gay people to this day," he said to Sky News while promoting BFI Presents Shakespeare on Film. "And these are all legitimate complaints and the Oscars are the focus of those complaints at the moment."

McKellen continued to expound on his comments to The Guardian. "If you are trying to have a career, as a black or Hispanic actor in a state — California — where white people are now the minority, and you are being judged by an Academy where the vast majority are white, male, middle-aged and old," he said. "Well, perhaps that is the wrong yardstick."
McKellen then went on to muse why an openly gay man has never won the Oscar. Of course, McKellen has been nominated twice for the Academy Award — first for playing the aging gay film director James Whale in Gods and Monsters, and then as Gandalf in the first installment of the Lord of the Rings. "No openly gay man has ever won the Oscar; I wonder if that is prejudice or chance," he said. Of course, there are a number of high-profile examples of the reverse holding true: Tom Hanks, Philip Seymour Hoffman and Sean Penn all have Oscar statuettes for such turns. "How clever, how clever," said McKellen. "What about giving me one for playing a straight man?"

He said that both times he was nominated, he had a speech ready in his suit jacket that started, "I'm proud to be the first openly gay man to win the Oscar." "I've had to put it back in my pocket twice," said McKellen.