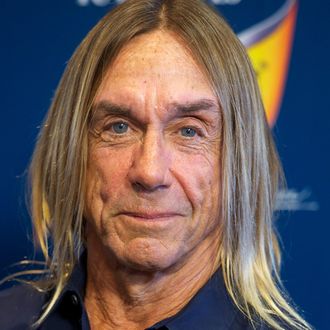 Iggy Pop.
Photo: Carlos Alvarez/2013 Getty Images
The New York Times reports that Iggy Pop and Queens of the Stone Age's Josh Homme made a now-not-so-secret album, slated to drop March 18, and are prepping their first round of promotional shows. Titled Post Pop Depression, the nine-track project was put together independently in a total of three weeks, with the help of Dean Fertita, from QOTSA; Matt Helders, from Arctic Monkeys; and other still-unnamed musicians. Judging by the tone of the Times story, PPD might serve as a kind of coda (or beginning of a coda) to Iggy's already-lengthy career. "What happens after your years of service?" Iggy told the Times, when asked about the record's theme. "And where is the honor?" 
A brief tour with the new material and band (which will add the likes of Troy Van Leeuwen, from QOTSA, and Matt Sweeney, from Chavez) will take place in March as well, at a set of still-undetermined, low-key venues, where Iggy's "presence might still seem disruptive." Except tonight. Tonight, Iggy, Homme, and their band debut on Stephen Colbert's Late Late Show, potentially with these jackets:
The only thing better than the above pieces of news are the ways in which Iggy and Homme discussed the above pieces of news, so read on below for some highlights.
On the point of the album:

Iggy: In American life, because it's so hypercompetitive, what happens when you're finally useless to everyone except hopefully not yourself? What happens then? And can you continue to be of use to yourself? I had a kind of character in mind. It was sort of a cross between myself and a military veteran.
On financing it:
Iggy: We paid for whatever ourselves, but it was made to be heard — not to be some quirky thing that we did with our own money, ha-ha.
On Iggy's legacy:
Homme: He is the last one of the one-of-a-kinds. This is a much deserved victory lap for a man who's not sure if he won. But he did. He may have tunneled underground for lots of that, but he still got to the destination.

Iggy: I went out and actually delivered a real show to people in a real place where they don't forget it. I know because they come back and tell me. I put boots on the ground for many, many, many, many years and did something a little different … The other thing I did was, I stuck with something through difficulty — probably caused by myself mostly — but nonetheless to a point where a lot of mature people, especially men, come up to me wherever I am, and they pay respect for that. People feel I stuck with something for them, that is of use to them. It doesn't have too much to do with reality, but it is of use to them.
On why this had to happen right now:
On the upcoming tour:
Iggy: I was feeling challenged at this point in my life to prove my value as a musical artist, not as a symbol of anything.

Homme: This was to go where neither of us had gone before. That was the agreement. And to go all the way.

Homme: There won't be hardly any shows, and they won't be in big places, and you won't be able to get a ticket. So almost everyone won't see it. It will be like trying to catch smoke in your hands. And that makes it even better. It will be special, and it will be over in the blink of an eye.
Update: It's true. Everything is happening so quickly. Iggy shared one of the album's songs, titled "Gardenia," late Thursday night. Stream it below:
As the album's artwork (above) shows, PPD is positioned as an Iggy project, produced by Homme. You can preorder it here, and check out the track list below:

1. Break Into Your Heart
2. Gardenia
3. American Valhalla
4. In the Lobby
5. Sunday
6. Vulture
7. German Days
8. Chocolate Drops
9. Paraguay
For more on the project, read the full Times report, which includes the simple text message that led to the collaboration, here.