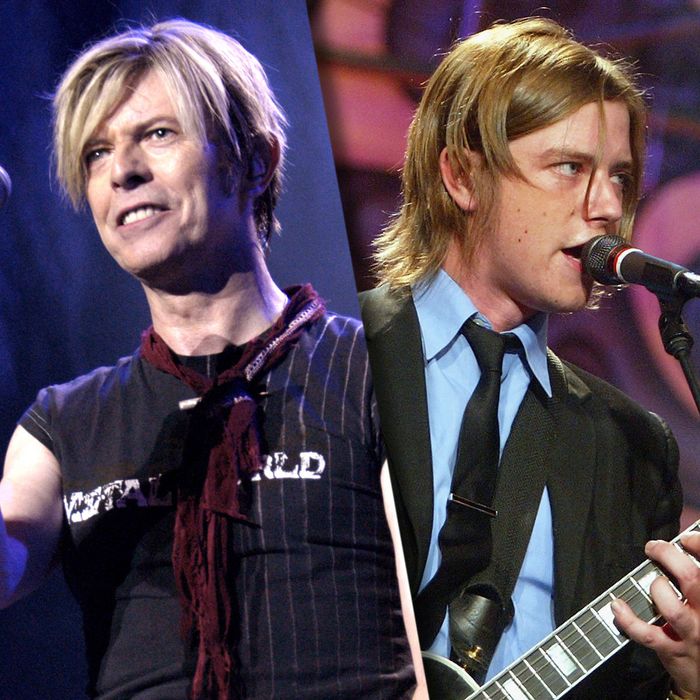 By 2005, Interpol was quite the known entity within New York's downtown rock revival, which had emerged in the mainstream a couple years earlier. The consummate downtown tastemaker, David Bowie kept up with many of these bands, as well as the burgeoning indie-rock scene in Brooklyn and beyond. From the Yeah Yeah Yeahs to LCD Soundsystem to Arcade Fire to TV on the Radio, "artists co-signed by Bowie early on" is a small but significant class of '00s acts. At their second Hammerstein Ballroom show in 2005, Interpol became one of those "Bowie bands," after the legend magically materialized outside their dressing room before the gig. Interpol singer Paul Banks recalls the occasion to us — or at least what he remembers of it ("If it was before '06, there's a good chance that I'm not going to remember," he says) — and the confidence boost it afforded the band, which was touring behind 2004's Antics at that point.
So, tell me what you remember, or what you've been told you should remember while reminiscing with your bandmates recently, about the night Bowie showed up at an Interpol show.
I remember everybody being pretty hung-over and a little grouchy in the dressing room pre-show, and we have a pretty tight ritual of nobody in the dressing room for a half hour before the show, and that was something understood by our tour manager. So, to my surprise, like ten minutes before showtime, someone knocks on the door, and I just see my tour manager — he's a Scottish guy who can be very polite but firm, and I hear him say, [Mimics accent] "Can I help you?" But in a tone of, Please fuck off, whoever you are who's knocking on the dressing room ten minutes before showtime. And then I just see him back away of from the door slowly. [Laughs.] Sort of like he'd seen a spectre, and then in walks in Bowie. He just left my tour manager speechless. He was trying to be our doorman-bodyguard, but he just kind of backed away slow, and in walks Bowie.
It was just kind of an amazing thing to meet him. I guess his rationale was that he had to leave at the end of the show, that he had to get home to his kid, so he wanted to say hi to us before the show because he wouldn't get a chance after, and that he was a big fan. We got pictures with him, and it just really electrified the band before we went onstage because, to all of us, he was about as big of an influence as they get. Real fucking legend. So it was really kind of a great just jolt of electricity.
Did you have any idea he was a fan?
No! No, not at all. That was the first I knew of it.
How do you even process the layers of that? First you're meeting Bowie, and then you find out he likes your music.
In context, we were sort of riding a wave of popularity in that early phase, and everything was kind of crazy for us. I don't know if we'd done the Curiosa tour [which the Cure's Robert Smith curated] yet, so it may have been one of the first times when we were sort of endorsed by someone we considered to be a legend. I think it was one of the things when we were getting a little beating in the press, and then David Bowie shows up and it's just like, "Well, fucking David Bowie likes us. Whatever."
You know, it really does mean something. Probably if Bowie's interested in a band, he can probably go chill in the back of the venue and enjoy the show. I just think it's a very generous gesture for someone in his position to let it be known to the band that he's a fan, because it doesn't get any better than that. It really doesn't. He obviously was a generous spirit, in that sense, because that just gives something to us. I doubt he really was dying to have a selfie with Interpol, but we'll never forget that moment. [Banks's former Interpol bandmate Carlos Dengler also recently spoke of the effect that night had on him.]
Did it do anything afterwards, to have that endorsement?
Yes, I would say in the long run it gives you confidence. Early on, we used to say a lot when people would ask how things were going, "Give me about ten years to think back on it and then I'll have some kind of perspective, because right now it's all fucking crazy." At the moment, I don't remember having a real clear, articulate thought on, What does it mean that David Bowie just gave us his blessing? Long-term, it just kind of said, Bowie was awesome. Bowie stayed involved, and he went out of his way to support young artists, as we've seen after he came to our show. I just think that it's cool, the same way that Elton John seems to be super up on new music. Bowie was an artist all the way, and a generous one who liked to tell other artists that he was a supporter. That was such a great gift for someone of his caliber to give to a young band.
Did you ever see Bowie again?
No, I did not. Who knows, it would've been cool to get his email and stuff, but that was it. I've been a fan from a distance since then. What's really interesting is that Sam [Fogarino, Interpol's drummer] had been going on and on for the week before he'd passed away — just out of the blue we all got an email from Sam saying, "Bowie's new single is insane, and the whole record is amazing. You should really check it out." It's pretty amazing that he made dope music at the end there, and it's just crazy how he kept it so quiet. There were always rumors that something was up, but I never really knew what was going on.
Even his death is art.
I know. It's hard to put into words what it is about it, but it's artful somehow. Classy motherfucker.
This conversation has been condensed and edited.