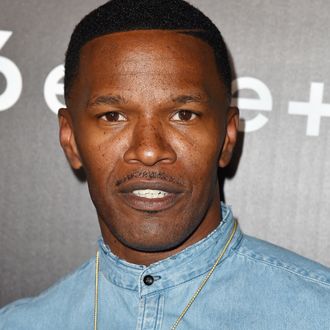 Badass, Jamie Foxx.
Photo: Alberto E. Rodriguez/Getty Images
On Monday night, a man, apparently drunk, was speeding through Los Angeles when he veered his Toyota Tacoma into a drainage ditch, hitting a pipe that caused the vehicle to flip over multiple times before landing on the passenger's side and bursting into flames — trapping the driver inside. What sounds like a horrific accident then became a cool action flick. As first reported by TMZ, Jamie Foxx, who lives near where the accident occurred, jumped into action alongside another man. "Jamie didn't hesitate. He jumped out and ran to the car," an unidentified member of Foxx's entourage told ABC News.
While the LAPD hasn't officially identified the two do-gooders, the police report says the following happened:
Two witnesses that were near the collision scene ran to the burning, overturned truck in an attempt to free the driver. One of the witnesses retrieved a rescue tool from his vehicle allowing the two citizens to break the window, cut the seat belt, and extricate the driver.
The police report also stated that the accident victim was "arrested for driving under the influence of alcohol," and suffered injuries to his head, neck, and chest. Foxx's rep confirmed to the Los Angeles Times that this happened in real life and not just in your movie-dream.