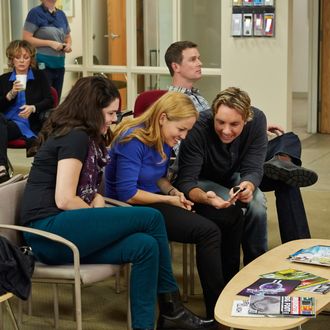 I don't wanna be your hero.
Photo: NBC
Just as Transformers may combine to form an even more powerful super-being and take on the Megatrons, the sister art forms of film and television are conspiring to launch a full-on assault on your tear ducts. According to The Hollywood Reporter, Jason Katims, showrunner for the dearly-departed Parenthood, one of TV's best meditations on family and the passage of film, has been inspired by Boyhood, one of film's best meditations on family and the passage of time, to revisit his TV series. "I'd be interested in [returning to the show] after a little time passes," Katims said at a Televisions Critics Assocation panel for his new Hulu drama, The Path, "Because I was really inspired — and am still inspired — by Boyhood and to see what happened over time with that."
Parenthood ended last summer, and it would take some time for all of its cast member's schedules to free up (Lauren Graham is filming Gilmore Girls, Peter Krause is starring in The Catch) but Katims does seem to have a few concrete ideas in store:
That would be a really interesting thing, to revisit Parenthood when Drew [Miles Heizer] has now graduated from college and Haddie [Sarah Ramos] has graduated from college and somebody, who knows, may be nearing retirement age. Stuff that gives us fodder for new stuff and things we haven't explored before. Seeing [Jabbar and the kids] growing up would be really interesting
All in all, this is a better justification for reviving a series than anyone even attempted to make for Fuller House.