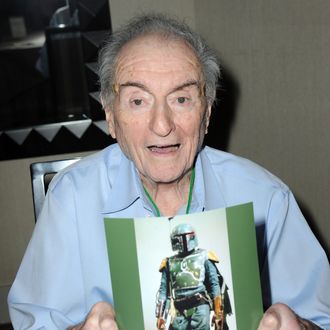 Photo: Albert L. Ortega/2014 Albert L. Ortega
Jason Wingreen, known for his numerous television roles, including playing the bartender in All in the Family and appearances in The Twilight Zone, and for voicing Boba Fett in Star Wars: The Empire Strikes Back, died at his home in Los Angeles on Christmas Day. The Hollywood Reporter confirmed the news through his son, Ned. Wingreen was 95.
Born in Brooklyn, Wingreen spent much of his career as a character actor, accumulating nearly 200 credits in small roles in everything from The Twilight Zone (as a train conductor in 1960's "A Stop at Willoughby") to The Untouchables, Matlock, The Fugitive, and Star Trek. Wingreen had a small part in Airplane, as a doctor from the Mayo Clinic, seen talking on his phone as a heart beats on his desk. And, in his longest-running role, Wingreen appeared on 117 episodes of All in the Family and Archie Bunker's Place as bartender Harry Snowden.
But Wingreen was most famous for providing the voice of bounty hunter Boba Fett, who appears for only a few minutes in the second Star Wars film. Wingreen auditioned for the part of Yoda, lost it to Frank Oz, and then was given the chance to voice a the bounty hunter's four lines of dialogue. Famously, Boba Fett became a hit with Star Wars fans, but Wingreen never receive any residuals for the performance, despite the fact that his likeness and voice were used for Fett action figures. In fact, Wingreen wasn't publicly credited for the role until 2000, according to The Hollywood Reporter. Then, in 2004, George Lucas made the decision to replace Wingreen's voice with lines by Temuera Morrison, who played Boba's father Jango Fett in the Star Wars prequels.
Wingreen is survived by his son, two grandchildren, and his sister.