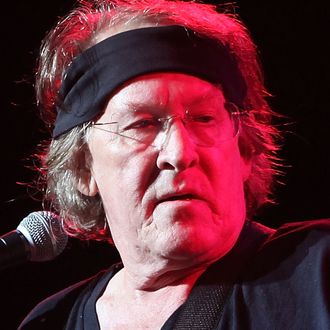 Paul Kantner.
Photo: Mario Tama/2009 Getty Images
Paul Kantner, co-founder of Jefferson Airplane and pioneer of the psychedelic rock scene in mid-1960s San Francisco, died earlier today of multiple organ failure. His publicist confirmed the news to the San Francisco Chronicle. Kantner had suffered a heart attack earlier this week and had dealt with a series of health problems throughout the past year. He was 74.
Kantner founded Jefferson Airplane in 1965 at a bar in San Francisco with Marty Balin. The group featured vocals and guitar from Balin and Kantner, lead vocals from Grace Slick, a blues-rock sound from guitarist Jorma Kaukonen and bass player Jack Casady, and drums from Spencer Dryden. It was one of the first of its kind to achieve mainstream success with singles such as "Somebody to Love" and "White Rabbit." Five of the band's first seven albums went gold, including Surrealistic Pillow (1967) and Crown of Creation (1968). Jefferson Airplane also performed at Woodstock and Altamont, where Balin was beaten up by a Hells Angel.
"Jefferson Airplane had the fortune or misfortune of discovering Fender Twin Reverb amps and LSD in the same week while in college. That's a great step forward," Kantner once said of the group's early days to music historian Harvey Kubernik. "We went into it our normal selves … The point is if you find something that makes you joyful take note of it. Amplify it if you can. Tell other people about it. That's what San Francisco was about. Both musically, idealistically and metaphorically and every other way. That's what we did here."
Amid fights with bandmates in the early 1970s, Kantner recorded a solo album, Blows Against the Empire, with Airplane singer Grace Slick, which eventually led to the Airplane's reinvention as Jefferson Starship. The newly reborn band then went on to further commercial success with the double-platinum Red Octopus (1975). Kantner left Starship in 1985, but later reformed his own version of the group in 1991, becoming a local fixture in San Francisco and occasionally performing with Balin and other members of the band.
In 1996, Kantner was inducted into the Rock and Roll Hall of Fame for his work with Jefferson Airplane. He is survived by his three children.
This post has been updated throughout.