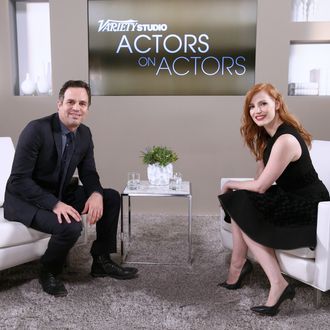 Evidence.
Photo: Imeh Akpanudosen/2014 Getty Images
On Thursday night, lauded screen actor Jessica Chastain's grandmother's dog, Livvy, disappeared. Last seen: The McDonald's at 2565 Springs Road in Vallejo, CA (here's a street view of the establishment). On Saturday, similarly lauded screen actor Mark Ruffalo lost his cell phone and driver's license amid the furious snows of New York City (here's a tally of the snowfall there last night). Are these cases related? Could they be? Ruffalo and Chastain have not collaborated on a film together, but once, Ruffalo interviewed Chastain for Variety. According to his official Tumblr, "She has some good stories."
On Instagram, Jessica Chastain promised a reward for whomever found Livvy. Then she thought about hugging Emily Blunt (as we all do in trying times), promoted a high-end watch brand, and played with her own dog in a blizzard. Then, around 6 p.m. EST yesterday, Livvy was found. Good work, humanity. Good work.
Mark Ruffalo's odyssey was more brief, though no less harried. After the first tweet, he posted a second in desperation. Then, the fates took pity. Less than 18 minutes later, the phone was found. Ruffalo thanked Amenaide and Catherine Brown, the girls responsible for finding his wallet.
Case closed.
Or is it?
Did you pay attention? Did you notice that Jessica Chastain was also in the snow in New York in on Saturday night? Did you wonder whether Chastain may have encountered Ruffalo in the depths of the storm, the two passing like spies in a John le Carré novel, operating within webs of intrigue that trap us (and possibly them) like flies?
Did you remember where Jessica Chastain's grandmother's dog disappeared? Did you realize that many of the Zodiac killer's crimes took place in Vallejo?
Did you see Zodiac? Did you remember that Mark Ruffalo was in it?
Jessica Chastain and Mark Ruffalo have appeared in one interview together. According to his official Tumblr, "She has some good stories."