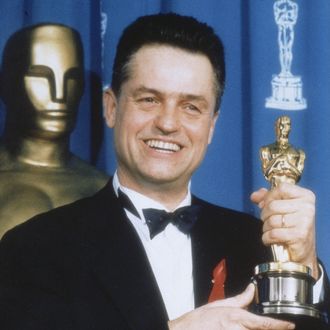 Demme with his Oscar for The Silence of the Lambs
Photo: ullstein bild
In the midst of proposed boycotts and changes from the Academy, Silence of the Lambs director Jonathan Demme has a new plan for fixing this year's very white slate of Oscar nominees — no, it doesn't involve putting the lotion on your skin, though that's always a good idea. In a guest column for Deadline, the Oscar winner argued that the Academy should simply add more room on the roster:
Wouldn't it be so wise, and so very correct, to not wait for next year to address this enormous challenge/problem? Instead, let's recalibrate this years votes, expanding the entries in all categories, and in this way make it possible for us all to actually watch what is presently — unwatchably — so mortifyingly the "best white whatever" in all categories of the 2016 oscar ceremony?
Demme also lamented the lack of attention paid to smaller films that don't feature white protagonists, taking Tangerine as an example. He wondered whether enough Academy voters watched their screeners of the film and proposed a system in which voters would have to see every film to submit their choices. Basically, even though Demme made Ricki and the Flash last year, he really wants Tangerine to win Best Picture.