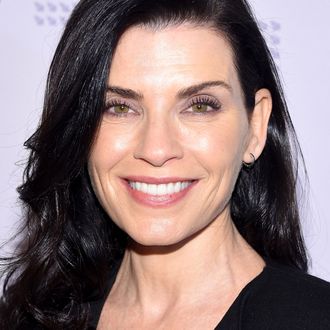 Photo: Michael Loccisano/Getty Images
Good-bye, Good Wife?
Since showrunners Robert and Michelle King announced they'd be leaving CBS's The Good Wife after season seven, the show's fate has been in question. CBS owns it, but the network has yet to renew it for an eighth season. "The bottom line is CBS is trying to make deals for an eighth season," Robert told TV Line earlier this month. "So we would be there in a supervisory role, but the storytelling we have will finish in the seventh year."

Julianna Margulies might've just put an end to all speculation. In a speech honoring the Kings at the Casting Society of America's third annual Artios Awards, she announced she was taking advantage of the assembled audience of casting directors. "I surprised Robert and Michelle tonight," she said. "They didn't know I was going to be here. They think I'm here for them, but I'm unemployed come April, and I think you haven't seen me in a while, at least not in person, so I thought I should show up." In other words, it sounds like her Good Wife commitment is over. And what is The Good Wife without … the Good Wife?