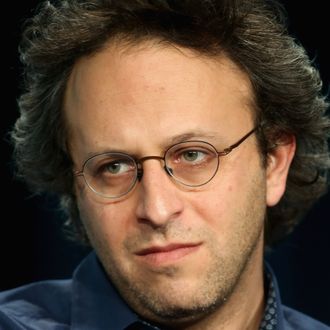 Jake Kasdan (yep, that Kasdan).
Photo: Frederick M. Brown/2015 Getty Images
If you're still processing your feelings about the Jumanji remake, here's something to consider: Deadline reports Jake Kasdan has signed on as helmer. His résumé doesn't have a ton of board-game experience, but it does tout credits tied to such enjoyable titles as The Grinder, Fresh Off the Boat, New Girl, Sex Tape, Walk Hard, Bad Teacher, and Orange County, among others. Using a script from Scott Rosenberg, Jeff Pinkner, Chris McKenna, and Erik Sommers, he will now do his best to either reinvigorate or raze childhoods new and old. Also, original illustrator-scribe Chris Van Allsburg is executive-producing because this is all really, truly happening, no matter what you say. Okay, fine, you might be thinking. But how will this version's story differ from that of the 1995 original? Will it still offer up timeless exhibits for social reform? Will it have Google Maps and other recent technological advancements? Happy holidays in advance, because you only have to wait until Christmas, when Jumanji comes out again, to find out.