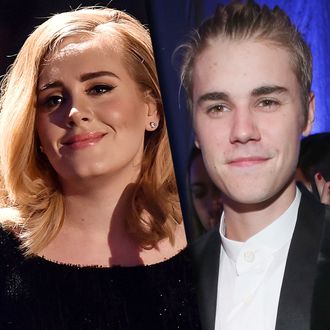 He knows he's let you down, Adele.
Photo: Getty Images
After a solid ten weeks ruling over the entire music industry, someone has finally snatched Queen Adele's crown: On this week's Billboard Hot 100, Justin Bieber has done the impossible and overcome Adele for the No. 1 spot. His soca-lite "Sorry" has bumped "Hello" to the second slot more than two months after both songs debuted on the chart in the same week, with Adele then at No. 1 and Bieber at No. 2. Finally, the roles have reversed, giving Bieber his second career No. 1 ("What Do You Mean?" also went No. 1 back in September), while another Purpose hit, "Love Yourself," is on the other side of Adele at No. 3. It's the longest anyone's had to wait to make the climb from second to first since OutKast's "The Way You Move" took eight weeks between 2003 and 2004 to topple their own hit, "Hey Ya."
Bieber's been trailing Adele from the moment her record-obliterating third album arrived: Now in its seventh week, 25 is once again at No. 1 on the Billboard 200, while Bieber remains at No. 2. (His latest million-selling album has only topped that chart in the single week that it didn't have to compete with Adele's.) But if it's any consolation, this week Bieber sold just 70,000 shy of what Adele did, meaning next week's albums chart could have the first real battle for the top spot we've seen since Bieber vs. One Direction back in November. It's never too early to write your apologies, Biebs.