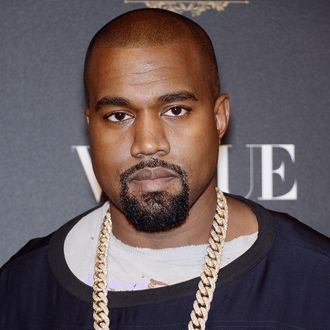 Yeezy Yeezy Yeezy.
Photo: Dominique Charriau/Getty Images
With Kanye West's potentially brilliant new album, Swish, out in just two weeks, theories for how he will officially debut it are already running wild online. On Tuesday, sleuths on Reddit and fan forums have discovered/spoiled possible plans for Kanye to debut the album at a Madison Square Garden concert on February 11 and screen the event live in theaters worldwide: Fans in Germany have noted that tickets for the event are already available for purchase in their country, with the concert seemingly tied to Kanye's upcoming third Adidas collection, Yeezy Season 3, as shown on posters. (A close look at one of Kanye's recent tweets appears to suggest that the line will show the same day as the album; New York Fashion Week begins the day before its release.)
Promotion for the event can also be found online for international theaters. MSG tickets for the event have also popped up on Ticketmaster, set to go on sale starting Wednesday. West has previously livestreamed his first two collections in select theaters worldwide, debuting "Wolves" and "Fade" at each show, both of which are expected to appear on the album. See the official poster, via DONDA, for the event below. And for more on Kanye's unpredictable next era, read our Vulture editors' discussion on Waves.
Update: Kanye has confirmed the event and opened up tickets for the screening in 25 countries (but not the U.S., sadly). The event is being billed as "the world premiere of the album Waves in its entirety," and will feature a performance by Vanessa Beecroft, the Italian artist behind Kanye's last two Yeezy Season fashion shows and his Yeezus tour.
Update No. 2: If you buy tickets to Kanye's Madison Square Garden fashion show/album debut, you'll get a free download for Waves when it's released. Because, like Rihanna, it seems Yeezy DGAF about an album sale. Tickets go on sale Thursday at 10 a.m. EST here.