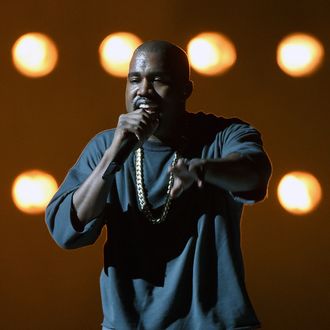 Why so few tracks, Kanye?
Photo: Ethan Miller/2015 Getty Images
As we near the February 11 release date for Kanye's latest album, Swish, we've been awash in all sorts of Yeezy samples and GOOD Friday goodies, tracks old and new. But it appears that the rapper will be keeping things (relatively) simple on Swish, with just ten tracks in the album. Kanye posted the track list on Twitter tonight, writing "so happy to be finished with the best album of all time." The list includes the already-released "No More Parties in L.A.," "Real Friends," "Wolves," and "Fade," along with newcomers "Nina Chop," "Waves," "High Lights," "30 Hours," "FML," and an especially hard-to-parse entry that appears to read "Faith Stretch My Hands." Kanye previously hinted that "Wolves" would be the first track on his new album, so it's possible that this track list should be read backward.
Kanye's writing pad also comes with a note that reads "Kylie was here," which would be a hilarious name for a bonus track, but is probably just a relic of the young Kardashian's shenanigans.