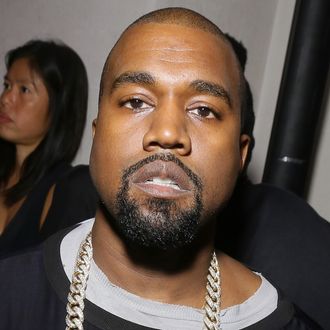 Kanye West.
Photo: Victor Boyko/Getty Images
We were warned this would happen: Kanye changed the name of his next album to Waves on Tuesday night. He announced the switch on Twitter, lamenting the album formally known as Swish and So Help Me God with three emoji crying faces, and teeing up a silver lining in the form of an amended track list. "This is not album of the year," he added, perhaps as reassurance. "This is album of the life." Check out his tweets below:
Aside from making you feel less self-conscious about your penmanship, the updated track list teases act breaks; a new song and Pokemon move; a split-up track; and the signatures (and probable collaborations) of such artists as A$AP Rocky, The-Dream, and Swizz Beats, among others:
After some readers were quick to point out that Max B was the true wavy one, Yeezus also doled out some brief shout-outs:
Kanye may unveil Waves, his seventh studio release, on February 11, at Madison Square Garden's Yeezy Season 3 Fashion Week show. For more on the rapper's unpredictable next era, read our editors' discussion here.