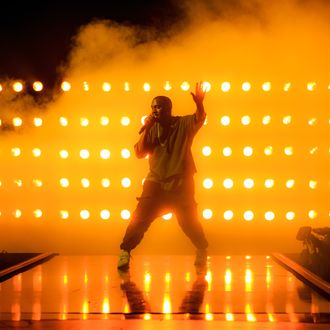 Is this all an elaborate Nike diss?
Photo: Christopher Polk/2015 Getty Images
After dropping "Facts" and "Real Friends" a week apart, Kanye West started to bring back something like his pre–My Beautiful Dark Twisted Fantasy "G.O.O.D. Fridays," a fact that was later confirmed by Kim Kardashian, Yeezy's PR rep of choice. Now, it seems that the new music will, once again, lead to a new album. On Twitter last night, Kanye wrote, "Swish February 11 16," a series of characters in numbers in a particular order that, by all accounts, indicates that his new album, which he previously said would be called Swish, will drop on February 11, 2016. It also seems likely that Swish will include many of the songs Kanye has released since 2013's Yeezus — meaning the two new releases, "Fourfiveseconds," "Wolves," "Fade," and whatever other Friday goodies we get before then. Currently, Swish, is slated to be 2016's first major music release, which is a bit of an ANTIclimax, honestly.