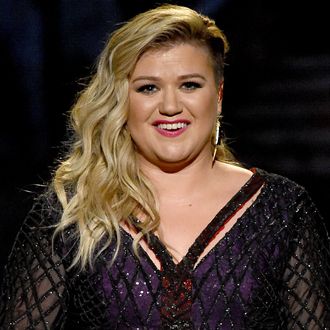 Photo: Ethan Miller/Getty Images
Kelly Clarkson will serve as a guest judge and perform on American Idol's first live show on February 25, executive producer Trish Kinane announced at the Television Critics Association press tour on Friday.  Clarkson, who is pregnant with her second child and will be close to delivering when the iconic show comes to an end in April, also wants to be involved in the finale, but producers are trying to work out how that will be possible.
"We're really happy she wants to be a part of this," Kinane said. "The show has meant a lot to her, and despite being pregnant, she wants to be a part of this."
The show has also invited past winners Ruben Studdard (season two), Jordin Sparks (season six), David Cook (season seven), Kris Allen (season eight), Scott McCreery (season ten) and Nick Fradiani (season 14), and tenth-season runner-up Lauren Alaina to perform duets with contestants during the middle rounds that air next month, she said.
"The point about this season is that we still have to find the amazing 15th American Idol," Kinane said. "But we also want to acknowledge the great rich history that the show has had. So, without being purely nostalgic, we are bringing quite a few of the former Idols to help the new contestants this season."
Producers are also talking to the show's original judges to take part in the farewell two-part finale, which airs on April 5 and 6. "We're talking to everybody that's made a huge contribution to the show, and we would love them to come back," Kinane said. "I'm pretty confident we'll have an amazing finale."