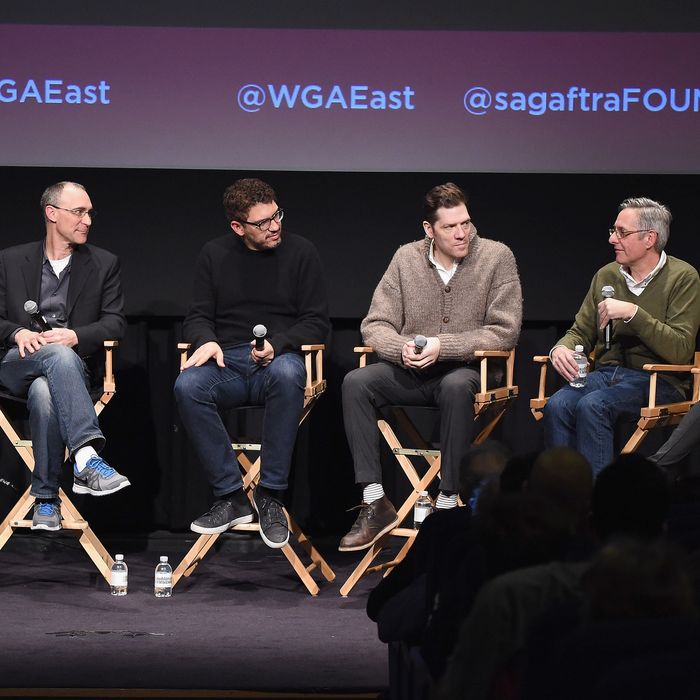 L-R: Writers Joe Weisberg, Joel Fields, Sam Esmail, Adam Rapp, Dan Lyons, and Kim Caramele.
Photo: Gary Gershoff/WireImages/Getty Images
This year's Writers Guild Awards' television nominees include Inside Amy Schumer's Kim Caramele, Joe Weisberg and Joel Fields of The Americans, and Sam Esmail, whose show, Mr. Robot, became the breakout hit of 2015. The writers gathered at the New York Institute of Technology auditorium Wednesday night for an hour-plus conversation that covered how Keri Russell was cast in The Americans, and why Esmail's decision to direct all ten episodes of Mr. Robot's second season is keeping him up at night.
Keri Russell was cast on a hunch. Discussion of casting strategies featured prominently throughout the panel, included this tidbit of how Keri Russell was hired to star as Elizabeth Jennings in The Americans. According to Weisberg:
"I was in a room with John Landgraf, the president of [FX] and five other people, and a list of the 100 best-known television and some film actresses in Hollywood, who were in a certain age range. Everyone was studying the list, and John went, 'Keri Russell.' That's how [she was cast]."
The reason? "John had this intuition that she had played such a 100 percent different type," says Weisberg, "[and] that it would be incredibly fascinating and rich to have her move in an entirely different direction."
Sometimes actors talk in gibberish when asked to audition a scene in Russian. Fields revealed that when they cast for The Americans, the actors do the audition scenes in both Russian and English. Caramele asked Weisberg and Fields whether any actors spoke gibberish to fake their way onto the show. "The funny thing is, they try," said Fields. "But we have a translator that, when someone gets close, their auditions get sent out to the translator for vetting, and sometimes the translator will say, 'Ha-ha no. Not remotely.'"
Writing and directing is really hard. Toward the end of 2015, it was announced that Esmail, along with helping write season two of Mr. Robot, would direct all ten episodes. While he is still committed to that trajectory, the prospect has been giving him nightmares. "I get up at six, and I go to bed at two a.m., and I am a nervous wreck the whole day," he said. "I am a control freak on set, but I am less so in the writers room. I actually like to hide there, because it is the most fun place. We are yelling at each other, and telling each other to fuck ourselves, but nothing is personal. It's all constructive."
He continued, "On set, it is execution time. It is about making it what you have on the page — all those ideas you fought so hard for in the room — really come to life. And that is where I get hands-on." He was asked by the panel's moderator what will happen this year when he begins to direct scripts he also wrote. "I had great directors in the first season, but they probably hate me," he said. "Which is one of the reasons that drove me to direct all the episodes. I wanted to make it easy on [the directors], [and] harder on me."
Everything is derivative. Several comments elicited applause throughout the evening, the loudest following Esmail's defense of the numerous influences that helped shape Elliot Alderson and Evil Corp. "I think there is a way to be inspired without being derivative," he said, adding it doesn't matter that he "ripped off" American Psycho, Dexter, Clockwork Orange, and Fight Club.
"The landscape is pretty derivative," he said. "Everything is a remake of a sequel of an adaptation that is a prequel. As much as I enjoyed watching Star Wars: The Force Awakens, it's literally beat-for-beat A New Hope. There is no bones about it. And now everybody is like, 'This is amazing and the most original [and] best film.' I'm like, 'Okay, I guess it works now.'"