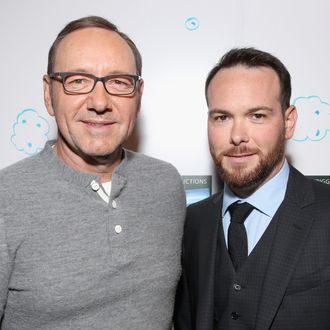 The heads of Trigger Street.
Photo: Todd Williamson/Getty Images
Embattled film studio Relativity Media has acquired and tapped Kevin Spacey and Dana Brunetti's Trigger Street Productions to oversee "all creative and film production."* Spacey, who, in his real life, is not actually a power-hungry president, will assume the title of chairman and Brunetti will be named president. Trigger Street has produced a number of prestige films and television series, including Captain Phillips, The Social Network, and House of Cards. As with those projects, Spacey tells Deadline that the new Trigger Street is looking to finance films in the $20–40 million range. Brunetti and Spacey say that Ryan Kavanaugh, CEO of Relativity, has essentially given them carte blanche to guide the productions as they see fit. "Dana and I coming in at this moment hopefully will bring a credibility, a righting of the ship," Spacey said. "It's a very exciting position to be in, where we can green-light a film." First Hollywood, then Washington!

*This post has been corrected to show that Relativity Media, not Trigger Street Productions, is the embattled film studio that is climbing out of bankruptcy and it has acquired Trigger Street to run its film division.