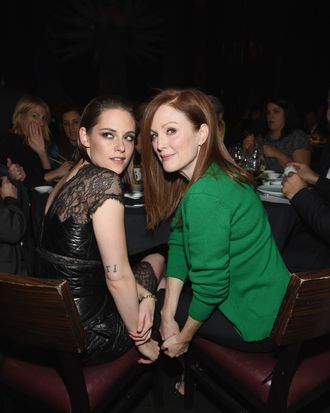 BFFs!
Photo: Jamie McCarthy/Getty Images
Celebrity best friendships seem to fall into one of six categories: (1) annoying for some reason (Miley Cyrus and Wayne Coyne, Aubrey Plaza and Anna Kendrick); (2) seemingly willed into existence by the internet (Jennifer Lawrence and Amy Schumer, Benedict Cumberbatch and Michael Fassbender/Tom Hiddleston); (3) arousing of suspicion (Taylor Swift and that squad of Amazonian model friends plus Lena Dunham); (4) magical and perfect (Amy Poehler and Tina Fey, Ian McKellen and Patrick Stewart, Michelle Williams and Busy Philipps, Viola Davis and Octavia Spencer, Leighton Meester and Zuzanna "Dorota" Szadkowski); (5) historical and ride-or-die (Leonardo DiCaprio and Tobey Maguire, Nicole Kidman and Naomi Watts, Salma Hayek and Penélope Cruz, Oprah and Gayle King); and the wild-card category, (6) magical and wonderfully unexpected, such as the best friendships we've unearthed at film events, between Shailene Woodley and Jessica Chastain and Jake Gyllenhaal and Guillermo del Toro.
Well, last night at the New York Film Critics' Circle Awards we discovered a most delightful addition to category No. 6, in the form of a best friendship we never knew we wanted, between Kristen Stewart, 25, and Julianne Moore, 55.
Moore was at the event to present Stewart with an award for Best Supporting Actress, which she won for her role as a personal assistant to an aging and vain actress played by Juliette Binoche in Clouds of Sils Maria — a role that had already made Stewart the first American actress to win France's César Award last year. Moore arrived at the podium, set before a giant Buddha illuminated with green neon lights at New York City's Tao, like someone you'd want to be besties with, making fun of how long the previous speeches had been and how she'd been partaking in the open bar to ease the pain: "Thank god, I thought I'd get too drunk before I got up here! Woo!"
She went on to say a lot of nice things about Stewart that illuminated why the two of them had such a palpable bond in Still Alice, in which Moore played a mom with early-onset Alzheimer's and Stewart her one child who seemed to get it.
Well, listen, you know, I'm happy to have the opportunity to talk about Kristen. I always like to mention that I have known her since she was 12 years old. You know, this is a way to state my primacy as an actor, and my own importance. Like you say, "Oh, yeah, I've known Kristen since she was 18," and I'm like, "Yeah? Yeah? I've known her since she was 12." But it's also a way to give me a frame to talk about her tremendous abilities and how obvious they were, so very early on. My husband, Bart Freundlich, cast a 12-year-old Kristen in his film [Catch That Kid] and would come home every day, telling me how amazing this little kid was and how she was going to be a giant star. No kidding, that's what he'd say. And then he'd show me the dailies so I could see for myself, the emotions that she had at her fingertips, and her inability to be anything less than completely authentic and alive onscreen.

And this authenticity extends to her personal self as well. Kristen brings an intensity and a truthfulness to absolutely everything in her life, her work, her friendships, and her relationship with the world. She has managed to become a global star while remaining very much herself, with her talent intact. And I've been very, very close to that talent, and that's when you can tell whether or not somebody's faking it or not, and believe me, she's not. I've seen her skin flush with emotion; I've wiped tears off her face and experienced the sheer pleasure of connecting with her as an actor, all the while knowing that that's the connection everyone in the audience is feeling as well. In Clouds of Sils Maria, the movie she's being honored for tonight, Kristen is achingly alive, palpably emotional, utterly practical, totally normal, and incandescent onscreen. In short, she is nothing less than what I expected of her when she was 12 years old. She is my friend, and I love her, and I thank you for acknowledging this beautiful performance.
And if we weren't all swooning already, Kristen Stewart ambled up to the stage to give Julianne Moore a hug, then wiped away her tears. She said:
Hey, guys … That was very sweet, thank you, Julie. Um, it means a lot to receive this from you [the NYFCC]. I've received a lot of popcorn, MTV Popcorns [at the MTV Movie Awards], stuff like that, but this is a little different. No, really. Thanks. Uh, this movie, it's really lovely. I worked with this director, Olivier Assayas directed this. Charles Gillibert produced On the Road, which I did a couple years ago, and got involved with us, and he's just put me in contact with people who I should be spending my time with, really incredible vision and that's what I love him for … This movie is really thoughtful and quiet and kind of diagonal and not extreme in any way. And it came out like a year ago! So this is nuts. And thank you so much, it really means a lot, and our crew was incredible, and when you get the right people together who want to tell a story, good things happen. Thank you so much. Bye.
So now maybe instead of obsessing over J.Law and Amy Schumer doing cheerleader pyramids and riding Jet Skis and fantasizing about their Grey Gardens future while having Thanksgiving at Diane Sawyer's place on Martha's Vineyard, we could turn our attentions to the three-decades-spanning friendship of beauty that is JMoStew, probably drinking tea and deeply emoting into each other's eyes. Now that's a best friendship we can root for.
Additional reporting by Kat Ward and Jennifer Vineyard.