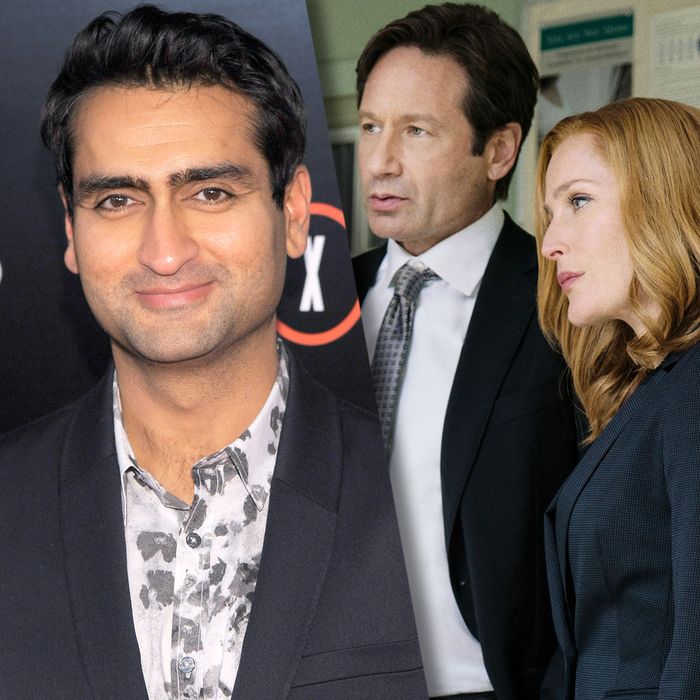 It's back!
Photo: Getty Images, FOX
Kumail Nanjiani took his X-Files Files podcast to the stage at Los Angeles's the CineFamily last Saturday, with fans lining up as early as 3 a.m. to watch a six-episode X-Files marathon of Nanjiani's favorite episodes, along with a screening of a new X-Files episode starring the comedian himself. Once fans were let in, after noon, Nanjiani teased the arrival of special guests as he joked about how long it took him to figure out which six episodes to screen. "The order kept changing, even up to today," Nanjiani said.
The first episode to screen, just before 1 p.m., was "Folie à Deux," a 1998 episode about a call-center employee who thinks their boss is a monster. "This one gets left off a lot of best-of lists," Nanjiani said, and continued on to explain that it was a perfect example of how The X-Files blends horror with character moments between Mulder and Scully.
Watching The X-Files years after the fact means you're in on all the jokes. There have been countless memes and theories and fanfiction devoted to Mulder and Scully, so now, with the "will they or won't they?" element removed, it's easier for people to laugh whenever Scully knocks down one of Mulder's crazy theories, especially when you're watching with a group of people at a comedy event. But even so, there was still swooning at the end, when Scully saves Mulder from a monster by rescuing him in a pysch ward. Nanjiani said that episode was for the shippers, to which someone asked, "What's a shipper?" Audience members cried, "What are you doing here?"; Nanjiani playfully corrected them, "What the fuck are you doing here?"
There aren't many good ways to transition into incest, so Nanjiani offered none as he turned on the second episode. "Home," that creepy episode about the Peacocks — a murderous, inbred family from the South — was immediately recognizable by its opening, which shows a sick newborn baby being buried alive. Anxious cries of disgust and excitement were heard as knowing audience members braced themselves for the episode, which was famously banned from ever reairing on Fox after its initial broadcast.
After the episode ended, its writer, Glen Morgan, showed up — he was excited to be seeing "Home" with an audience for the first time, and loving how well it was received. Morgan discussed how he wrote the episode pretty quickly, and shared that fellow X-Files writer Vince Gilligan suggested that the inbred Southerners refer to the Civil War as "the War of Northern Aggression." Morgan also said that the Elvis joke in the episode (and others in the series) was because David Duchovny was irritated that Mulder was made into an Elvis fan, so they constantly put Elvis jokes into the show.
Morgan also teased that a popular scene in "Home," in which Mulder and Scully discuss parenthood on a bench, will be revisited in the new episodes, with an episode titled "Home Again." It won't be about the Peacocks, though. Morgan says that he once tried including the family in an episode of the Fox show Millennium, but the network told him those characters will "never appear on television again."
Nanjiani hoped David Duchovny would be able to show up to the marathon, but he received a text that Duchovny wouldn't be able to make it. In lieu of an appearance, Nanjiani said he asked Duchovny to pick the night's next episode. Naturally, Duchovny chose the one he wrote and directed himself: the 1947-set baseball episode "The Unnatural."
After that Nanjiani played his favorite episode, "Clyde Bruckman's Final Repose," which he said encapuslates everything people love about The X-Files. Which is true — the Emmy-winning episode often appears at the top of many fans' best-of lists. "It better be yours," a fan had even said to me in line that morning as we discussed our favorites.
Darin Morgan, the episode's writer, also dropped in for a brief discussion. He shared, among other things, that in another one of his episodes, "The War of the Coprophages" (about killer roaches), Duchovny's mother made a cameo — but the scene was running too long, so he had to cut her.
It was past 6 p.m. at this point, but the event was still rolling along. Next up was "Drive," the episode where Vince Gilligan first worked with Bryan Cranston, who played the villain. Once "Drive" was over, X-Files creator Chris Carter shared that Gilligan originally wanted to set the episode (about a man who can't stop driving or his brain will explode) on a Ferris wheel. That ultimately became a running gag in the writers room.
The penultimate episode of the day was Carter's ode to monster movies, "The Post-Modern Prometheus." Carter explained that the episode was such a love letter to Cher that she asked him to be the presenter when she received her star on the Hollywood Walk of Fame.
Carter apologized to a fan for the series' time gap (the pilot is set in 1992, but the second episode of the series is set in 1993), and said that a third X-Files film is a "non-starter," thanks to the television return. Griping about the second film, I Want to Believe, Carter said he wasn't prepared to do a second film on such a small budget, one that became even smaller once filming started. Nor did he find the PG-13 rating tenable. "When we first screened it," he said, "I got a call from a studio head who referred to it as 'torture porn.'" Carter said that Fox owns The X-Files, so the series could go on indefinitely without him, but he's just happy that they asked him first.
Finally, after a bout with technical difficulties, Nanjiani introduced the third episode of the new season, "Mulder and Scully Meet the Were-Monster," in which he plays an animal-control worker. Nanjiani expressed all day how nervous he was to actually be in an episode of his favorite show, but writer and director Darin Morgan said that he loved Nanjiani's critical thinking about the series on his podcast, and it inspired him to write a role specifically for the comic. X-Files' "monster of the week" episodes have become a part of X-Files history and the fabric of many other television shows, so Morgan used "Mulder and Scully Meet the Were-Monster" to comment on the nature and format of monster-of-the-week episodes themselves, creating possibly the most meta episode of The X-Files ever. But what else would you expect from the man who wrote the series' previous holder of that title, 1996's "Jose Chung's From Outer Space"?
Nanjiani hopes fans of the series will like his character and not feel like he ruined the show. As he described the potential worst-case scenario of fan revolt: "It's like being in love with a gorgeous woman for 20 years. And then, when you finally go out with her, you end up murdering her."