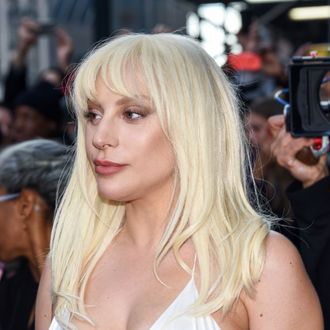 I want it all, you paint romance.
Photo: Grant Lamos IV/2015 Getty Images
Lady Gaga had sex on a canvas splattered with paint with Taylor Kinney for the cover of V Magazine for peace, which is pretty cool, though honestly how much of an excuse do you need to do any of that? In a photo posted to Twitter, Gaga shared her (or rather Kinney's, he's the one holding the camera) post-coital selfie and announced that all of the proceeds from the cover's sale would go to her charity, the Born This Way Foundation.
Gaga is V's guest editor for the issue and she also included cover photos of Karl Lagerfeld and Hedi Slimane, among shots of other friends. Inside, she revealed that Kinney has wanted to do the nasty on canvas for a long time. "Years ago, when we were secretly living in San Diego and crashing on the floor of a beach shack," she wrote. "We never wore shoes. He told me he wanted to make love to me on a canvas." And as for the performance's political dimension, Gaga wrote that the lovemaking is supposed to be a defiant act amid violence across the world. "We made love on the canvas on a Sunday in Chicago. We made love amidst chaos. We talked about shootings. We made love amidst terrorism. And we talked about how people's hearts are also suffering all over the world as they watch and witness a swell of violence. We made love amidst violence." That's not necessarily our first choice for pillow talk, but whatever works for you.
And in an interview with James Franco inside the issue (currently only in print), Gaga spoke to James Franco about her upcoming studio album, which is expected to drop later this year. She talked about the way her role on American Horror Story gave her "clarity," and promised that the upcoming release will be a little calmer compared to her previous work. "I have a little less of an instinct to be reckless with my music now because I'm reckless in other places," Gaga said. "So now I'm thinking more about what it is I want to say and what I want to leave on Earth. It's less an expression of all my pain." Sounds like the new album is going to be less ARTPOP and more Tony Bennett. Sorry, all five of you ARTPOP stans.