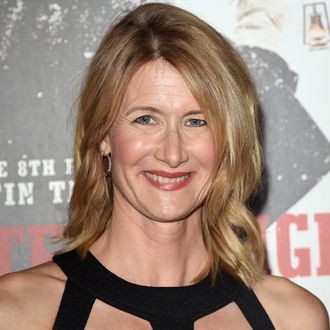 Is that you, Diane?
Photo: Jason Merritt/Getty Images
Good news, Twin Peaks fans, Blue Velvet fans, Enlightened fans, fans of high-quality art of all kinds: Laura Dern has joined the cast of Showtime's Twin Peaks revival. According to TVLine, which first reported the news, Dern has a "pivotal role" in the upcoming series, which is set for release in summer 2017. According to one rumor, she may play Diane, the woman at the receiving end of Agent Dale Cooper's voice memos who may or may not actually exist. Point being, we may get to see Laura Dern discuss the quality of coffee and donuts onscreen, which is the most can ask from American cinema.
Dern first worked with David Lynch in his 1986 film Blue Velvet, where she played good girl Sandy Williams across from Twin Peaks star Kyle MacLachlan. The actress later collaborated with the director in Wild at Heart (1990) and Inland Empire (2000). MacLachlan is currently the only actor Showtime has confirmed to appear in Twin Peaks, though past reports have stated that Sheryl Lee (Laura Palmer) and Sherilyn Fenn (Audrey Horne) will reprise their roles in Mark Frost and David Lynch's TV series, while newcomers Balthazar Getty, Robert Knepper, Amanda Seyfriend, and Jennifer Jason Leigh are joining the cast. Now, where's Isabella Rossellini when you need her?