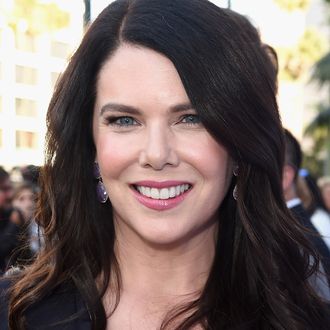 Oy, with the poodles already!
Photo: Jason Merritt/Getty Images
Yesterday, Netflix confirmed that it would indeed be going forward with its Gilmore Girls revival, which is tentatively titled Gilmore Girls: Seasons. And, because there's nothing so official as word from Lorelai herself, Lauren Graham gave a first-peek interview about the show to TVLine. Graham has read the first three scripts — "Winter," "Spring," and "Summer" — of the four-episode limited series, which leaves "Fall" as the final installment (just the order Carole King would want). She also discussed how the passage of time hangs over the series, affecting the characters that will and won't make it back to the show. Some, like Edward Herrmann, have passed since the show left the air. Due to scheduling conflicts or other obligations, some others may simply not return:
There's a line [in the script] about how time has passed and how that feels … and hanging over all of it is the absence of Ed [Herrmann, who played Gilmore patriarch Richard], which, obviously the [revival] addresses. But that's where we're all starting from, and it feels so real. It's hard to be here without him. You notice so many friendly faces and then a few that are missing. But more than anything, we just can't believe it. All of the things that had to happen for this to happen. 
But before Lauren Graham makes weep rivers of tears so big future explorers will get lost searching for their source, know that there are many happy things to look forward to: The set for the original house is back, we're getting resolution between Emily and Lorelai, and since Amy Sherman-Palladino is back at the helm, we're finally going to hear those final four words she always wanted to use to end the series. Graham, of course, isn't revealing them yet, but she can say that they're part of an exchange: "So I asked [Sherman-Palladino], 'Who says them?' And she says, 'Both of you.' That's all I can say. It's not, you know, in unison."