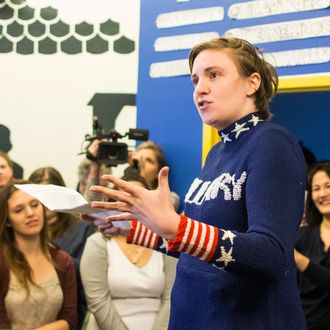 Dunham brings her sweater game to New Hampshire.
Photo: Scott Eisen/2016 Getty Images
While campaigning for Hillary Clinton in Iowa, Lena Dunham — writer, actress, and director — kept her signature voice as she made it clear to the Iowan masses that she is not voting for Hillary just because of her gender. "Nothing gets me angrier than when someone implies I'm voting for Hillary Clinton simply because she's female," Dunham said at an event in Iowa City. "[It's] as if I have some feminist version of beer-goggles, lets call it 'estrogen blindness,' and I just kind of walk like a zombie towards the nearest vagina. This assumption is condescending at best and it is sharply misogynistic at worst." The Girls actress, who interviewed Hillary for her newsletter, Lenny, clarified that the issues come first. Dunham supports Clinton "because of her policies, because of her track record, because of her beliefs — and a little bit because of her pantsuits. But that's my prerogative as a citizen."
Dunham also appeared at other events in Iowa and New Hampshire in advance of the Democratic primaries held there later this spring. In support of the candidate, Dunham wore a selection of sweaters emblazoned with the candidate's name. If you want to hear about a version of Lena Dunham that has been less successful in Iowa (having recently dropped out of the Iowa Writers' Workshop), Hannah Horvath will return to HBO February 21.