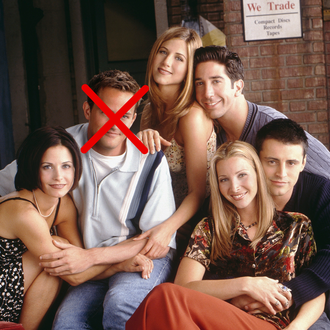 The one with one less Friend.
Photo: Getty Images
The Friends reunion is here! Just kidding, it is 100 percent not a Friends reunion, so please stop calling it that. Sure, the gang is getting back together, but only five out of six of them, and no one even invited James Michael "Gunther" Tyler or Tom "Eye Doctor Richard" Selleck. Now that that's out of the way, here's what it really is: a tribute to director James Burrows, who is recognized as TV's most accomplished comedy director. He's done The Mary Tyler Moore Show, Taxi, Cheers, Frasier, Will & Grace, Friends, The Big Bang Theory, Two and a Half Men, and Mike & Molly. The special will celebrate his 1,000th episode of TV with his new NBC comedy Crowded.
Scheduled to be in attendance will be the casts of the following shows. (Others may also be added.)
Cheers: Ted Danson, Shelley Long, Bebe Neuwirth, Rhea Perlman, John Ratzenberger, George Wendt (Kirstie Alley, Woody Harrelson in pretaped segments)
Friends: Jennifer Aniston, Courteney Cox, Lisa Kudrow, Matt LeBlanc, David Schwimmer (Matthew Perry in pretaped segment)
Frasier: Peri Gilpin, Jane Leeves, David Hyde Pierce (Kelsey Grammer in pretaped segment)
Will & Grace: Sean Hayes, Eric McCormack, Debra Messing, Megan Mullally
Taxi: Tony Danza, Danny DeVito, Marilu Henner, Judd Hirsch, Carol Kane, Christopher Lloyd
The Big Bang Theory: Kaley Cuoco, Johnny Galecki, Simon Helberg, Jim Parsons
Wings: Tony Shalhoub, Steven Weber
Mike & Molly: Billy Gardell, Melissa McCarthy, Katy Mixon, Nyambi Nyambi, Reno Wilson
Two and a Half Men: Jon Cryer, Charlie Sheen
Crowded: Carlease Burke, Stacy Keach, Carrie Preston, Mia Serafino, Patrick Warburton
Exciting! You know, if you like TV shows. Must-See TV: A Tribute to James Burrows, a.k.a. The Wings Reunion Show, airs Sunday, February 21 from 9 to 11 p.m. EST.