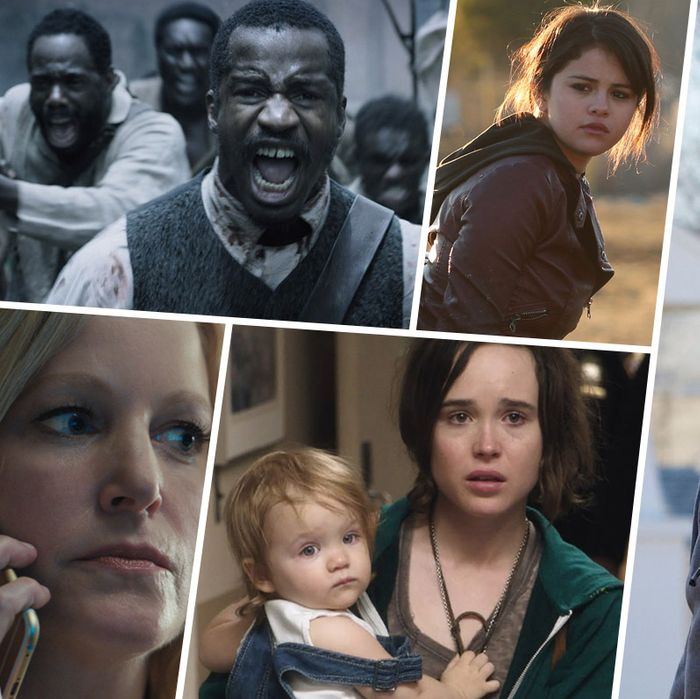 Photo: Sundance Film Festival
Sundance 2016 is in the rearview mirror, and with its passing, two paradigms have shifted. First, the headline news: The Birth of a Nation, Nate Parker's passion project about the rebellion-leading slave Nat Turner, shattered festival records when it sold to prestige-film power players Fox Searchlight for $17.5 million. Rapturously received by Sundance viewers, it's already being discussed as a possible favorite at the 2017 Oscars, and Fox Searchlight had to beat out a $20 million bid by Netflix to win the rights.
And therein lies the second revelation: Missing out on the crown jewel notwithstanding, Netflix and Amazon dominated this year's Sundance. The streaming giants were by far the most active buyers, grabbing six movies apiece — including, for Amazon, the second-biggest acquisition of the festival, Kenneth Lonergan's Manchester by the Sea. That film, too, is expected to contend at the 2017 Oscars, giving Amazon its first major bid for an Academy Award.
Both streaming services came into Sundance hoping to shore up their film divisions after first steps into the business last year: Netflix had Cary Fukunaga's Beasts of No Nation and Adam Sandler's The Ridiculous Six, while Amazon distributed Spike Lee's Chi-Raq with Roadside Attractions, which it will partner with again for Whit Stillman's Love & Friendship. The two companies' approaches are slightly different: While Netflix has released its movies simultaneously on SVOD and in (very few) theaters, Amazon maintains a theatrical window for its films before they reach Amazon Prime — hence the partnership with Roadside.
There are a few reasons for the new normal. With the changing dynamics of audience consumption — much of it thanks to Netflix and Amazon — art-house moviegoing has fallen off a cliff. Sundance 2015 highlights Dope and Me and Earl and the Dying Girl both rode festival fervor into the wall of wide release; Dope's $17 million gross was a mild disappointment after a $7 million sale to Sony and Open Road, and Fox Searchlight's Me and Earl and the Dying Girl went from Sundance darling to box-office disaster and an object of passionate revulsion in some quarters, "winning" the title of Worst Film in the Village Voice's critics poll. The year before that, no movie sold for more than $3.5 million. In 2016, it's become harder and harder to talk yourself into the idea that your quirky Sundance buy is going to be the next Little Miss Sunshine (or Fox Searchlight's Best Picture nominee and solid earner Brooklyn, which went for $9 million in 2015); unless it can play to wider audiences, à la The Birth of a Nation and Manchester by the Sea, it's a bad bet.
Meanwhile, thanks to the vagaries of streaming performance versus box-office numbers, Netflix and Amazon have the luxury of building up their libraries, the very thing cutting into theatrical performance, without necessarily having to sell a certain number of tickets. Because those libraries are still nascent, there's a need among the streaming services for content that distributors like Fox Searchlight, SPC, and A24 just don't have. And it doesn't hurt that right now Netflix and Amazon have money spilling out of their pockets, not to mention that vaunted Silicon Valley burn rate.
That said, plenty of studios and distributors dipped a toe in with at least one purchase. These are the Sundance pictures you can expect to see in theaters or on VOD … eventually.

A24:
Morris From America — dir. Chad Hartigan — $1+ million
Swiss Army Man — dir. Daniel Kwan and Daniel Scheinert — low seven-figure range

AMAZON:
Author: The J.T. LeRoy Story — dir. Jeff Feuerzeig — $1 million
Complete Unknown— dir. Joshua Marston — $2+ million
Gleason — dir. Clay Tweel — Amazon/Open Road — $3 million
Love & Friendship — dir. Whit Stillman — Amazon/Roadside Attractions — $2 million
Manchester by the Sea — dir. Kenneth Lonergan — $10 million
Wiener-Dog — dir. Todd Solondz — low seven-figure range
BETA CINEMA:
Sand Storm — dir. Elite Zexer — undisclosed
BRAINSTORM MEDIA:
Resilience — dir. James Redford — undisclosed
FOX SEARCHLIGHT:
The Birth of a Nation — dir. Nate Parker — $17.5 million
GLOBAL SCREEN:
Between Sea and Land — dir. Manolo Cruz — undisclosed
IFC Films:
Weiner — dir. Josh Kriegman and Elyse Steinberg — undisclosed
LIONSGATE:
Indignation — dir. James Schamus — $2.5 million
MAGNOLIA:
Tickled — dir. David Farrier and Dylan Reeve — Magnolia/HBO — undisclosed
Lo and Behold, Reveries of the Connected World — dir. Werner Herzog  — undisclosed
The Lovers and the Despot — dir. Rob Cannan and Ross Adams  — undisclosed
NETFLIX:
Audrie & Daisy — dir. Bonni Cohen and Jon Shenk — undisclosed
Brahman Naman — dir. Q — low seven-figure range
Tallulah — dir. Sian Heder — $5 million
The Fundamentals of Caring — dir. Rob Burnett — $7 million
Under the Shadow — dir. Babak Anvari — undisclosed
Norman Lear: Just Another Version of You — dir. Heidi Ewing and Rachel Grady — Netflix/Music Box Films — undisclosed
THE ORCHARD:
Life, Animated — dir. Roger Ross Williams — undisclosed
Hunt for the Wilderpeople — dir. Taika Waititi — $2 million
OSCILLOSCOPE LABORATORIES:
The Fits — dir. Anna Rose Holmer — undisclosed
PARAMOUNT HOME VIDEO:
Goat — dir. Andrew Neel — $2.5 million
The Intervention — dir. Clea DuVall — $2.5 million
SONY PICTURES CLASSICS:
Eat That Question — dir. Thorsten Schütte — undisclosed
Equity — dir. Meera Menon — $3.5 million
The Hollars — dir. John Krasinski — undisclosed
The Eagle Huntress — dir. Otto Bell — mid-seven figures

UNIVERSAL:
Frank & Lola — dir. Matthew M. Ross — $2 million
WWE STUDIOS AND BLUMHOUSE:
Sleight — dir. JD Diller — $1+ million