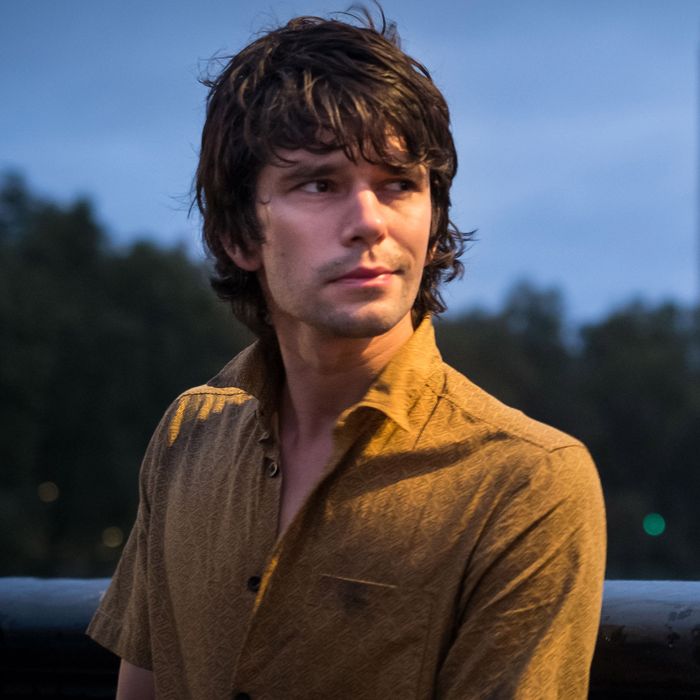 Ben Whishaw. Someone! Help him!
Photo: Joss Barratt/BBC America
The more good TV one watches, the harder it is for any one show to seem good. It's the same with anything else: High-end stops becoming a distinguishing feature and starts becoming a constant companion. Clothes are supped to be luxe. Food is supposed to be gourmet. Shows are supposed to be good, especially now. And London Spy, airing on BBC America Thursday, is good, but it's good in the way "good" shows of our modern era are good: It's smart though a little opaque, British, dark, political, often eschewing authentic human behavior so that when it gives in to more grounded realism, those scenes really pack a punch. There are brief indictments of technology, and moments that oversimplify that same technology. It's very much of a piece with Mr. Robot and Black Mirror, though more overtly sexual. And it cries out to be thoroughly recapped and dissected. Could one call it pretentious? Hm. One could.
But only a hater would bother to do so, because the pretension is part of the draw. And like I said, London Spy is often good — immersive if a little elusive. Our star, as with other broody U.K. dramas, is Ben Whishaw, as wounded and desperate as ever. It takes all your strength not to summon wizard magic, crawl into your television, and rescue him with tenderness, nutrition, and hygiene. I will get you a haircut, Ben Whishaw. I will swim us both to safety, like a protective mother otter. He's fantastic as Danny, a somewhat scuzzy but seemingly decent guy who, through a chance encounter, meets Alex (Edward Holcroft): handsome, enigmatic, and after a few dates, ultimately DTF, as well as DT fall in love. This is a psychological espionage thriller, so needless to say, their romance does not launch them on a seamless, wondrous path toward happily ever after. Jim Broadbent is there, as is Charlotte Rampling. It's England. They're all there. There are story lines connected to British intelligence services, global terror, the AIDS crisis, the surveillance state in general, seeming criminal conspiracies, and kink.
Whishaw's performance alone would be reason to give the show a go, and at just five episodes there is not really a lot to lose. Like its good-show brethren, London Spy showily indulges in one area of production — the way Mad Men did for costuming, or Breaking Bad did with unusual cinematography. Here, it's sound design. London Spy is the most aggressively sound-designed show in living memory. The groan of latex gloves, the shocking pierce of a ringtone, the rattling of a candy in someone's mouth. You can hear the soft give of a wool blazer, something you can only barely hear if you yourself are wearing one (and even then, not always). It's intrusive and disorienting, one of the ways the show positions the audience to be in Danny's shoes: Everything's too raw, too jangly. We can never take a second to make sense of everything and are instead constantly in a state of being provoked or disturbed.
But London Spy is better at setting vibe and tone than it is at moving through its tangled plot, which is again a hallmark of being a contemporary good, or "good," show. Today's good shows are well-acted, precisely directed, and often (though not always) their dialogue has a stylish edge. But overwhelmingly, shows like Homeland or True Detective don't construct season-long mystery all that well, and even in five episodes as a miniseries, London Spy struggles with plotting. There are probably other, non-plot-driven avenues one could take to get at London Spy's ideas. Take a page from the Rectify playbook, if you want, and just go ahead and be a mood poem. It's allowed. Or instead of being a story of the investigation, go for The Americans' flip and be the story of the obfuscation. But creator Tom Rob Smith picked this — a choice that means sometimes the show ought to prioritize narrative coherence over atmosphere, so that there's a sense we're moving forward with the solving of our mystery. London Spy does not do this all that well.
That occasional tedium sometimes makes London Spy a slog, and that's a shame because at its best moments — all of which are Whishaw moments — the show is gripping. There's a gasping desperation to Danny, and like any fully developed human, he feels original and unique, and his struggles matter because they're his. Unfortunately one of the things he's struggling against is a show that isn't 100 percent sure what to do with him.