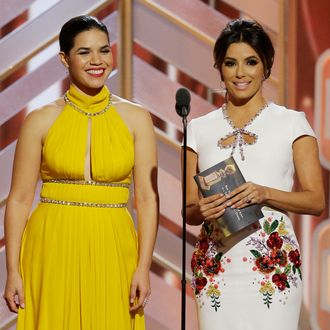 America Ferrera (left) and Eva Longoria. This is a caption, not a bit.
Photo: Handout/2016 NBCUniversal Media, LLC
Eva Longoria and America Ferrera's brief Golden Globes bit, which made fun of how they're always mistaken for other Latina actresses, was one of the highlights of this Sunday's ceremony, apparently because it wasn't part of the plan in the first place. According to Longoria, who spoke about the event at a Television Critics Association panel for Telenovela today, "They always send you copy, and it's always terrible." So the two actresses asked the show's writing staffs to help come up with better material. Eventually, Justin Spitzer, the head writer for Ferrera's Superstore, pitched an idea based on that time the Hollywood Foreign Press really did think Ferrera was Gina Rodriguez, though he claimed Ferrera did the bulk of the writing (aww, Betty's still so humble). Longoria was thrilled by the "macro conversation" the exchange provoked. "There's truth in jest," Longoria said, "And I think it went over very, very well."
Okay, but now we want to know what the original jokes were. Were the pair asked do another "bear from The Revenant" bit? Were they supposed to say something about Ricky Gervais? Did the HFPA even get their names right?