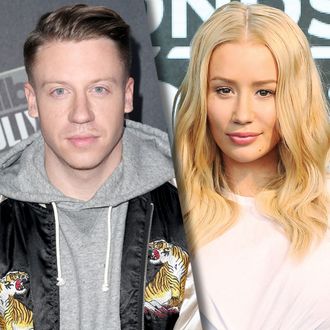 "Check yourself, check yourself, check yourself."
Photo: Getty Images
Macklemore's latest mea culpa, "White Privilege II," is barely three days old, but the internet has wasted no time mining every lyric for think pieces galore. One verse in particular has raised eyebrows among Macklemore's peers: In the song, he calls out Iggy Azalea and Miley Cyrus for being just as guilty of cultural appropriation as critics have accused him of being. Replying to a fan on Twitter who interpreted the line as a diss, Azalea initially responded, "He shouldn't have spent the last 3 yrs having friendly convos and taking pictures together at events etc if those were his feelings." The comment then incited a daylong Twitter feud with Talib Kweli, who strongly felt that Azalea missed Macklemore's point. Ultimately, Azalea said she wasn't offended by Macklemore's words, but that hasn't stopped the controversy. In an interview with Rolling Stone, Macklemore has clarified why exactly he referenced Iggy and Miley on the song:
"For me, that second verse is unpacking. It's an unpacking moment of internalized criticism and self-doubt, and 'What have I done,' and letting the criticism infiltrate who I am. 'Why am I insecure at a protest?' And I think that people get put into boxes, and the conversation around cultural appropriation — I was at the forefront of that, rightfully so. And that conversation also included Miley Cyrus and Iggy Azalea, and that's why their names are on the record."
As Macklemore tells it, it wasn't about using Iggy and Miley as scapegoats for appropriation, but holding both himself and these other white musicians accountable for profiting off black culture. And it's his own insecurities about his position in the industry that nearly prevented him from releasing the song: "The song was like halfway done and Ryan asked me, 'Where do you go from here, now? You make this song. You call out yourself. And you talk about cultural appropriation. But at the same time, you're benefiting from the same thing you're calling out. And there's no way not to, and there's no way to make this record and exempt yourself from still benefiting in a certain capacity.' And I think that I had to continue to come back to, 'Is this record, with all of the inherent flaws in it, is it better in the world, or not?' And I couldn't answer that just by myself."
So instead, he turned to people of color within the Black Lives Matter movement and beyond — Jamila Woods, Hollis Wong-Wear, Georgia Roberts, Nikkita Oliver, and more — for guidance and a necessary perspective heard in their own voices throughout the track. But even before then, he says it was a phone call from a hip-hop O.G. whom Macklemore won't name, on the night of Darren Wilson's non-indictment, that gave him all the validation he needed to write and drop the song.