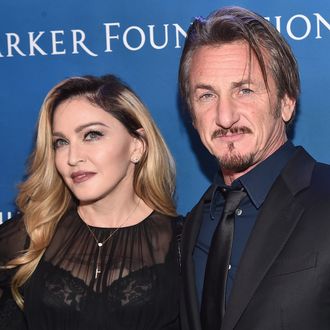 Spicoli has had quite a weekend.
Photo: Alberto E. Rodriguez/2016 Getty Images
As the outside world reacted to the news that he'd, you know, held a secret interview with fugitive drug lord El Chapo for Rolling Stone, Sean Penn was doing exactly what he always does the night before the Golden Globes: raising millions of dollars for the people of Haiti. Held inside an intimate ballroom at the Montage Hotel in Beverly Hills, the annual gala drew scores of famous Penn friends like Leonardo DiCaprio, Anderson Cooper, Justin Bieber, Pamela Anderson, and Jason Segel. Oh, and his ex-wife Madonna was there, too!
The "girl from Michigan," as Penn affectionately called her, treated the crowd to a surprise, sweet rendition of "La Vie En Rose" on her ukulele, which was later sold at the auction (among many super fancy items) for $300,000. It all helped J/P HRO — the inexhaustible organization still working to, among many challenges, aid the 80,000 Haitians still displaced by the 2010 earthquake — net a total $7 million in donations.
Penn, who tearfully shared stories of frustration and triumph from his years of work on the ground in Haiti, capped the night victorious and treated Hollywood's deepest pockets to a surprise performance by Tom Petty and the Heartbreakers.
"No one cares more than Sean does," J/P HRO ambassador and actress Soleil Moon-Frye told Vulture. "When you see the good we've done in Haiti, you realize anything is possible if Sean is involved."
When you're talking about the guy who somehow talked one of the most wanted men in the world into sitting down for a secret chat in the Mexican jungle, we believe she's probably right.
More information about helping Haiti can be found at www.jphro.org.