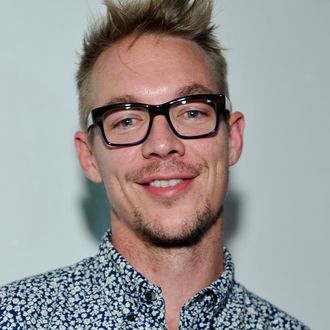 Diplo, of Major Lazer.
Photo: John Sciulli/2013 Getty Images
Major Lazer will be one of the first major Stateside groups to perform in Cuba since diplomatic ties have resumed, according to reports. Diplo's three-piece electronic act is set to participate in a free show March 6 in Havana, at Tribuna José Martí, in front of the U.S. Embassy. "For as long as I can remember, Cuba has played an influential role on my love of music — Cuba has such a powerful cultural impact all over the world and for me, especially growing up in Florida, it became one of the biggest cultural centers for music to evolve from," Diplo said in a statement released to the media. "I was lucky enough to visit Cuba a few years back … and to be a part of the culture once again is a huge blessing and I couldn't be more honored to bring the Major Lazer project there." The Lazer show serves as a preview for the forthcoming U.S.- and Cuban-produced Musicabana Fest, taking place in May. Diplo and friends will also reportedly meet with Cuban music students and DJs, and will try very hard to have as much fun as Conan did.