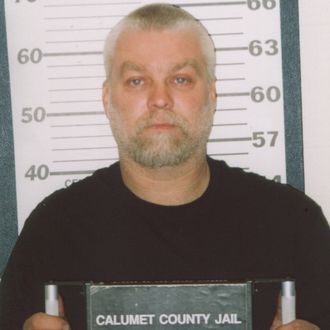 Steven Avery in Making a Murderer.
Photo: Netflix
Making a Murderer directors Moira Demos and Laura Ricciardi have received plenty of scrutiny since the true-crime series began streaming last month, and on Wednesday afternoon, the pair took to Twitter to clear up some of viewers' biggest questions about the documentary series. Most of the questions dealt with the duo's decisions about how much of the state's evidence against Steven Avery to include in the ten-hour series; Demos and Ricciardi have previously said that they chose to include what the prosecution itself said were the strongest parts of its case, and over the course of the Q&A session, they delved into more detail about the material they left on the cutting-room floor, and why.
For instance, why did they not include the fact that Avery's DNA was found under the hood of Teresa Halbach's car, a fact that prosecutor Ken Kratz said was just as important to his conviction as the possibly planted blood?
When the subject turned to Avery's ex-fiancée Jodi Stachowski, the filmmakers say they have no idea what to make of her recent comments on Avery's guilt, and deny her allegation that she asked for her scenes to be removed from the documentary.
And as for reports that Halbach had complained to her boss about Avery before her death, the pair say there's more context that's missing:
Throughout their promo campaign for the series, the directors have always maintained that they weren't focused on the question of Steven Avery's guilt, but instead wanted to ask broader questions about the way the judicial system often works against the accused. What can a viewer do to aid the cause of reform? Demos and Ricciardi had four suggestions: