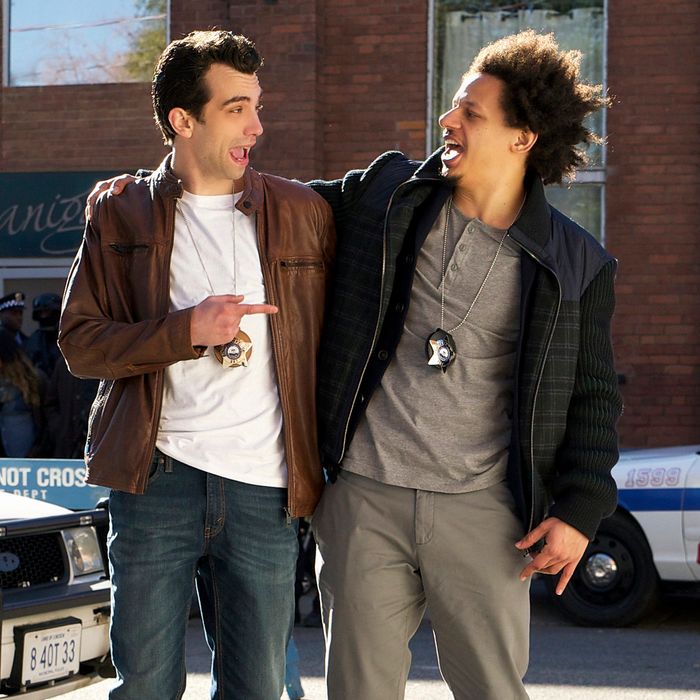 Jay Baruchel (left) and Eric André in Man Seeking Woman.
Photo: Michael Gibson/FXX
The comedy landscape on television right now is an absolute embarrassment of riches. Do you want a dark animated sitcom about a horse? It's out there. How about a highbrow prank show helmed by a deadpan Canadian? Sure thing! A female-driven musical comedy that touches on themes of mental-illness stigma, or a comedic telenovela about a pregnant virgin? Not only do they both exist, they're on the same network!
With the glut of brilliance out there, it's easy for shows to slip through the cracks, and one show that is not getting the widespread love it deserves is FXX's innovative Man Seeking Woman.
If you're bored of shows about thoroughly mediocre white men being sad no one wants to date them, you might actually really love this show … about a thoroughly mediocre white man being sad no one wants to date him. See, Man Seeking Woman, based off the Simon Rich novel of the same name, pushes the tropes from those shows until we're so far past the point of absurdity, we're watching Jay Baruchel's Josh trying to fend off his girlfriend's ex-boyfriend, a monster named Tanaka who is made of penises.
And unlike the How I Met Your Mothers of this world, Josh's assumption that the world owes him a girlfriend because he is the hero of this story is perpetually in question. He is put on trial for boyfriend misconduct; set up on a date with the only person his sister can think of who would like him: a bridge troll; his life is put on hold because every time someone swipes left on him on Tinder, he is literally flung across the room. Man Seeking Woman seems to understand that Josh is nice enough, but what does he really bring to the table? We root for him because we will ultimately always root for decent people to find love — but it's refreshing to see this kind of self-awareness in a show that is, at its core, about something we've seen a million times before.
While Jay Baruchel is genuinely lovable in a role that could not be more suited for him, the show is stolen over and over again by Eric André as his party-boy best friend, Mike, and Britt Lower as Josh's sister, Liz, an accomplished lawyer whose engagement falls apart over the course of the series. Maybe the best thing about Man Seeking Woman is the fact that everyone will find something to relate to in it. I may not know anything about your dating life, but Man Seeking Woman certainly does. Ahead, seven clips that capture the show's surreal sense of humor.
1. The Tea Party
If it seems like everyone younger than you is getting married … you've got nothing on Liz and this group of highly precocious second-graders.
2. The Bro Shelter
When Josh gets a girlfriend, he realizes that his single best friend doesn't really have a place in his life anymore, so he drops him off at a place where he'll be free to play foosball and eat wings to his heart's content … unless the shelter can't find him a new best friend within the 30-day protection window.
3. Cupid Is a Drunk Asshole
As if we didn't all know it already, Man Seeking Woman proves that Cupid (the perfectly cast Jorma Taccone) is pretty much only interested in bringing love to the worst people on Earth, and his family isn't happy.
4. The Text-Message Summit
When Josh finally gets a girl's number, figuring out what to text her to get her attention becomes a national emergency — and he needs to figure out whether or not to go with the nuclear option: a dick pic.
5. Swipe Left
Getting passed over on Tinder hurts — but not as much as it does for Josh.
6. Spiral Eyes
If it feels like everyone but you has a preternatural ability to talk to attractive strangers, it might just be that you were never visited by the spiral-eyed wizard.
7. TANAKA!
… Remember when I mentioned the giant penis monster?