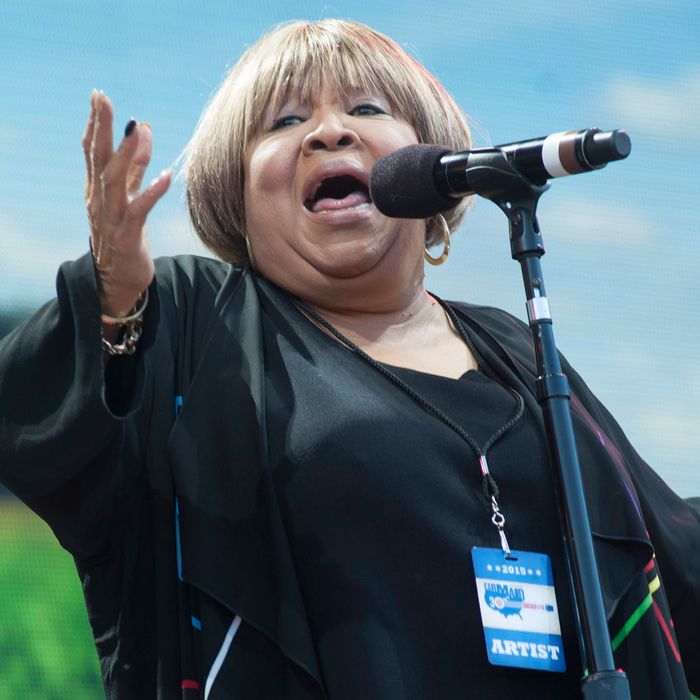 Mavis Staples at Farm Aid at the First Merit Bank Pavillion at Northerly Island on September 19th, 2015 in Chicago, Illinois. (Photo by Paul Natkin/Getty Images)
Photo: Paul Natkin/Getty Images
"I've always tried to keep a young frame of mind," Mavis Staples says, shortly after discussing one her favorite songs of the past few years, Pharrell's "Happy." "I'm 76 years old but when I go shopping, I don't look for clothes for old people. Right now I have me some orange neon sneakers. I don't deal with age."
On the heels of both a new studio album and Mavis!, a feature-length HBO documentary about the singer's career, Staples is as prolific now as she's ever been, enjoying yet another peak in a late-career resurgence that began in 2010 when she teamed up with Wilco's Jeff Tweedy to make the Grammy-winning LP You Are Not Alone. In April, Staples — who began her recording career in 1956 as the teenage star vocalist of her family gospel group, the Staple Singers — heads to Coachella, where she will be the only performer to have made an album before the late '80s.
Throughout the past decade of her fruitful collaboration with the indie-leaning label ANTI- Records, Staples has become a spiritual motherlike figure and encouraging mentor for a wide range of younger musicians. Ever since her work in the '80s with artists like David Byrne and Prince, Staples has remained uncharacteristically connected to contemporary music, whether she's jumping onstage to sing with Lake Street Dive and Norah Jones 0r scanning Top 40 radio for the latest from Bruno Mars and the Weeknd. When discussing her current pop favorites, Staples stops me short when I ask if she likes Rihanna. "I love Rihanna," she says. "But oh man, she hasn't had anything on the radio in a while."
Staples's new album, Livin' on a High Note (out February 19), is an album of original material — written by songwriters like Justin Vernon, Tune-Yards, and Neko Case — that showcases the Chicago singer's cross-generational fluency. The record's joyous tone came about because Staples wanted to change her focus after so many decades of singing politically charged spirituals and the "freedom songs" that the Staple Singers once made famous. "I've been watching the news lately and I feel like I'm back in the '60s," she says. "But I don't want to sing about that right now. I want to bring people back up."
Staples recently sat down with Vulture to share some of her favorite younger artists, from pop stars she's never met to longtime collaborators just a few years her junior. "These are my children," she says of her countless younger collaborators. "I take them to be mine, and I'm so grateful because they're all brilliant. They keep this old girl young."
Rihanna
"I like Rihanna more than I like the other little girl, Beyoncé. What's that she sings? [Singing] 'Bitch better have my money'? I like that. I just like her voice, she sings so soulfully and down. She wears a lot of really flashy things, but she doesn't seem to be into herself. She's really cool."
Salt-N-Pepa
"Throughout the years I've noticed that a lot of young people listen to the Staple Singers. What really tickled me was that a lot of kids used to sample me in their rapping, and one group that took me on was Salt-N-Pepa. All they used in their song was me going 'oh-huh' in their song 'Let's Talk About Sex.' When we were doing Bill Clinton's inauguration, they were right next door to me. Someone told them I was next door and then the guy told me, he said, 'Mavis, they said to me, "Don't tell Mavis we're over here, she'll beat us up for using her voice!"' I said, 'Lord, that flattered me.' I was so flattered that they used my voice in their song."
Adele
"I love Adele. That girl is so soulful, it's a shame! So soulful, yes she is. I got a chance to meet her in London. We were on a television show together and she was so nice. She even came to the dressing room to say good night after the show was over when everybody was leaving. I couldn't believe that. She was beautiful. Now I wonder: Does Adele remember that I met her?"
Neko Case and Kelly Hogan
"When I was asking people to write songs for my new album, I wasn't too worried about Neko because we're partners. I've known Neko awhile, she's so crazy, both her and my other friend, Kelly Hogan. Kelly sings background for Neko a lot and also sings background for me sometimes. You don't want to see Kelly and Neko together. They're just like those two girls who were on the Golden Globes the other night, Jennifer Lawrence and Amy Schumer. If you see Neko and Kelly together, they would knock those two girls out of the park.
"Neko cracks me up. I went to her show in Chicago recently, and I wasn't aware that she cursed so much! I said, 'Neko, you drop so many F-bombs up there.' She said, 'Mavis, that's what they want to hear! You should drop a few F-bombs.' I'm not going to be dropping no F-bombs. My F-bomb would be 'fun.'"
Justin Bieber
"You know, I'm liking Bieber's last song, the one called 'Love Yourself.' I like that. Bieber makes me angry sometimes with the way he acts. He thinks he has to be a bad boy, but he doesn't have to be. But I do like his new stuff. 'Sorry' and [singing] 'if you love yourself, go and love yourself.' Those are good ones. I stay on the radio. That keeps me afloat, keeps me in the know with what's going on."
Bonnie Raitt
"Me and Bonnie, we go way back, she's my baby sister. Bonnie's an old-time friend and I've done a couple tours with her. We have big fun. Lord, I used to get so jealous. Pops [Staples] loved Bonnie so I once said to her, 'Bonnie, I don't know if I have to try to get like you or what, because when you're around I don't exist with my father. I don't know if I've got to get some red hair, or if I've got to lose some weight, because Pops just ignores me when you're around.' She said, 'Mavis, don't talk like that!'"
Prince
"When Prince called me, I said, 'Why does this young guy want to hang with me?' I was surprised. It was like when my manager told me that Jeff Tweedy wanted to produce me. I said, 'Oh Lord, here's another youngster coming.' But it's great. That's the way it should be. I used to sing with sister Mahalia Jackson a lot and I was much younger than her, so it's just carrying that tradition on.
"I was working with Prince for seven years. He wrote all those songs for me. I did two albums with Prince [1989's Time Waits for No One and 1993's The Voice], but then he was in an argument with Warner Bros. when he wanted to release The Voice and they just wouldn't let it be heard. He sold a part of his label [Paisley Park Records, a Warner imprint] to a label in Germany so the record was played over in Europe. So it used to be that when I would go over there back then, I would have to sing all those songs. I would sing 'The Undertaker' and 'Blood Is Thicker Than Time,' which Prince wrote as a tribute to my family."
Lucius
"When I was hanging with all those youngsters at Newport [Folk Festival], I told Lucius I wanted to sing with them, and I'm glad I got to. Just to get up there and sing with them was fun. Those two little girls are such glamour girls. Oh, they have beautiful voices, and they're so sweet. I said to them, 'The closest I'm getting to you guys is the hair. I almost have the hair like you.'
"Bonnie came to see Pops when he was sick. We were all in the living room and she started playing guitar and we all started singing together, it was something. Eventually Pops got tired and went upstairs, so we all followed him. Pops laid down and Bonnie sat on the side of his bed. She said, 'Now nobody can ever tell me that I've never been in Pops Staples' bed!'"
Chuck D
"Chuck D is such a beautiful person. He talks about me a lot in my new documentary. We did a song together, 'Pride,' and you know that is a good song. We did that song several years ago, but when we did the video, I had to do a lot of lip-syncing because we had done the song so long ago that I couldn't sing that high anymore because it's in such a high key."
Valerie June
"I met Valerie twice at the Beacon Theatre in New York. She was the first to send me her song for the new album. She's such a little cutie. Hearing her talk, it threw me off when I first heard her song. She has this strong southern accent so I thought she was saying, 'leaving on a high note,' but when I got the lyrics it said, 'living on a high note.' I was glad it said 'living' because I didn't want to be leaving! Her voice is so beautiful. I wanted to sing just like her, I tried to repeat her in the recording. Oh her voice, I love it."
Joan Osborne
"I had loved Joan's song '(What if God Were) One of Us' for years. Bonnie Raitt introduced me to Joan back in '98 at Jazz Fest in New Orleans. On my wall I have a picture of Bonnie, myself, and Joan that we took in the dressing room. When I toured with Joan last year, she was always wanting to go to the spa. She kept saying, 'Mavis, why don't we go to the spa?' I said, 'Joan, I don't want to go to the spa!' She'd go, 'Oh Mavis, you'll enjoy it!' I said, 'No. I like to meditate. I do not want to go to the spa, but I appreciate you inviting me!' But we had so much fun on tour. We wrote a little song together that we sang in the back of the bus. I've been on the phone with her lately. We email back and forth. We keep in touch."
Pharrell
"When I hear, what's that kid's name? Pharrell. When I heard him singing [singing] 'because I'm happy …' I thought that was the best thing that could have happened for the world. I love it. I sing it all the time. It's kind of like when that guy wrote 'Don't Worry, Be Happy.' And all of my new songs that I'm singing, they are all such joyful songs. That's where we need to be today."