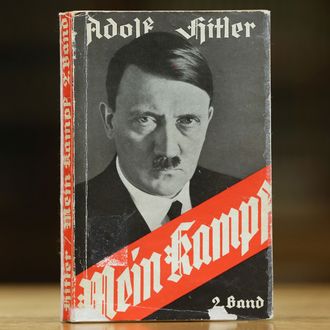 An older edition of Mein Kampf. The new German version comes with a spare gray cover.
Photo: Sean Gallup/Getty Images
Mein Kampf, the 1925 memoir by Adolf Hitler that outlines the future dictator's genocidal vision, hits bookstores in Germany on Friday for the first time since the end of World War II. Though the Nazi insignia and other symbols of the fascist regime have been banned in the country since the war, Mein Kampf was never officially put on the blacklist. Instead, the government of Bavaria, which held the copyright, simply refrained from publishing it. With the close of 2015 — 70 years after its author's death — the book now enters the public domain in Germany, with a new annotated edition from the country's Institute for Contemporary History going on sale just days after the copyright lapsed.
The new Mein Kamf attempts to place the book in the context of the larger history of European anti-Semitism, and includes numerous footnotes critiquing Hitler's arguments. Its publishers see the publication as a necessary step in fighting the continent's rising tide of right-wing nationalism, with the Institute's director, Andres Wirsching, telling the AP, "At a time when the well-known formulae of far-right xenophobia are threatening to become … socially acceptable again in Europe, it is necessary to research and critically present the appalling driving forces of National Socialism and its deadly racism."