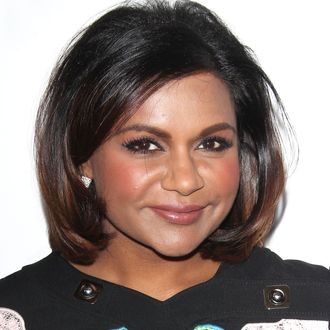 Mindy Kaling.
Photo: Jen Lowery/Corbis
This morning, Mindy Kaling tweeted a link to a list of her favorite romantic comedies, apparently an idea suggested to her by her friend (?) B.J. Novak (#It'sComplicated). Mindy posted her top nine, begging the question: What's the tenth?? There are a lot of Mindy classics on here, including You've Got Mail and Bridget Jones's Diary, but then, straight out of left field (ha ha!), A League of Their Own! Is that movie even a rom-com? Seems to fall less in the Romantic Comedy category and more in the category of Movies With a Strong Female League. Is it a romance between sisters? A romance between friends? A romance between Bill Pullman limping back from the war and Geena Davis? Decide for yourself. Here's the full list:
Bridget Jones' Diary
A movie as good as the book, and in some ways even better because Hugh Grant and Colin Firth were better than the Daniel Cleaver and Mark Darcy of your mind

You've Got Mail
This is not a guilty pleasure! As Quentin Tarantino said, there are no guilty pleasures, only pleasures. F.O.X.

The American President
Michael J Fox and Anna Deavere Smith chatting at craft services! Aaron Sorkin at video village in a baseball cap! Annette Bening in black leggings! Picturing the on-set dynamic of this movie is almost as fun as actually seeing it!

The Princess Bride
Page for page the best written romantic comedy script, in my opinion

The Apartment
Classic. Structurally perfecto. Amazing callbacks. Shirley MacLaine's glorious pixie bob. Jack Lemmon straining spaghetti in a tennis racket!

A League Of their Own
The only bad part was that Tom and Geena didn't hook up. What are you gonna do.

The Holiday
Glorious chemistry between Kate Winslet and Jack Black. I love a story built around temporary subletting.

Strictly Ballroom
Real weird and so good. Gets you primed for Silver linings Playbook.

Silver linings Playbook
I don't care if you have a real bad mental illness, Bradley Cooper, I'll dance with you. Beautifully written.