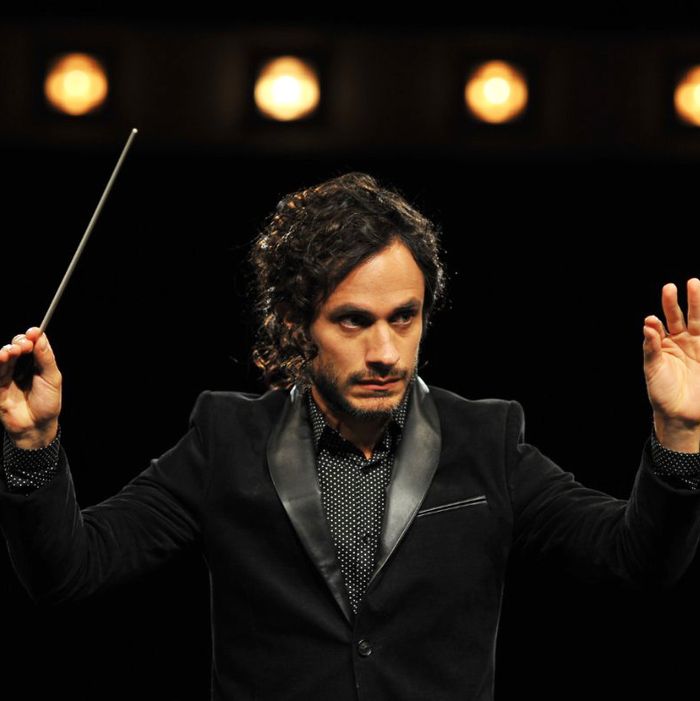 Gael García Bernal as Rodrigo in Mozart in the Jungle.
Photo: Amazon
Amazon series Mozart in the Jungle was a big winner at the Golden Globes Sunday night, taking home awards for Best TV Comedy and Best Actor in a TV Comedy. For the uninitiated, the show, which premiered its second season in its entirety on December 30, is an earnest, quirky comedy with a goofy sensibility. It follows elite classical musicians in a fictional New York symphony and the battle to keep their art form alive in a Spotify world. It's interested in the odd but ubiquitous collisions of high and low culture — and how we don't have to use those as codes for "good" and "bad."
"Thank God for the integration of high and low culture," says Lola Kirke (Mistress America), who stars as ingenue oboist Hailey. "How elitist and ridiculous to say that only certain people can enjoy certain things?"
Vulture spoke to Kirke, Jason Schwartzman, and Paul Weitz (who serve as the show's executive producers, along with Roman Coppola) on the same day the series' first season received its two Golden Globe nominations — one for Best Musical or Comedy Television Series, and one Best Actor nod for Gael García Bernal, who plays Rodrigo, the symphony's dynamic, bizarre young conductor.
Mozart in the Jungle is inspired by Blair Tindall's juicy classical-music insider's memoir — subtitled Sex, Drugs, and Classical Music — but the show takes a gentler approach to its source material than the book. You wouldn't call it gritty or raw. There's fierce competition, but unlike the memoir, nobody's hallucinating or trying to kill anyone else. Its prevailing aesthetic is playful appreciation: Roommate and money troubles, lost instruments, messy romances, creative blocks, and other challenges litter the path to a sustainable artistic life.
"An orchestra is like an octopus with a million tentacles," said Schwartzman. "That's exciting from the storytelling perspective, because all these characters meet at this one place and have these performances and do their job. But then they go off into the night, and they have to make ends meet. They have their lives."
The idea that classical music belongs in the concert hall, but not exclusively, was a recurring theme in the first season. In one memorable episode, Rodrigo coaxes the orchestra out into an abandoned lot to play Tchaikovsky's "1812 Overture" for a fascinated neighborhood. In another, young musicians at a raucous party play a drinking game involving a battle of virtuosic performances punctuated by tequila shots. The second season also features performances in unexpected places, including a youth orchestra on a plaza in Mexico. The show's opening titles invert this theme: They feature a classical orchestration of the hit pop-rock song "Lisztomania," by French band Phoenix.
In its second season, the show also continues mixing stirring performances (Beethoven's "Ninth Symphony" shows up this time) with comical setpieces, including a heist homage in Mexico, a melodramatic nunnery scene, a stripper named "Johann Sebastian Cock," and a sequence in which Rodrigo, Thomas, and a number of other world-class musicians and conductors are in skintight motion-capture suits so they can be integrated into a forthcoming video game.
This season's overarching conflict involves a contract dispute between the orchestra's board of directors and the players' union — probably not anyone's first idea of drama in an orchestra. But it fits right in with the show's interest in both the sublime and the mundane. Both the players and the organization have to figure out if it's even possible to keep the engine running. "For a lot of arts organizations, there's a real pressure, not only how to keep your audience young," Weitz said. "But as things change, people don't buy subscriptions anymore, and that changes the economics."
All this hit close enough to home that it caught the attention of classical-music insiders, several of whom end up in the second season — Lang Lang, Joshua Bell, and Emanuel Ax all show up to play ping-pong and arcade games in an episode set mostly in a dive bar; and rock-star Los Angeles Philharmonic conductor Gustavo Dudamel, to whom Rodrigo's character bears more than a passing resemblance, appears briefly as a stage manager of his own orchestra.
"Dudamel had watched the show. We got a call about coming to meet with him," Weitz said. "We weren't sure if we were going to get chewed out or not. But instead it was, 'We'd like to work with you, because Gustavo really feels this is a great thing for classical music.'"
Whether or not classical music deserves to survive is not a question asked in Mozart in the Jungle. The question is how. The show doesn't settle for easy answers, offering instead a passionate defense of an endangered art form. Because the show tempers its unironic enthusiasm and advocacy for classical music with a taste for the absurd, it avoids turning tiresome or snooty. "You go to classical music and you see tuxedos and you see a certain life, but you get a little closer, and the tuxedo's stained. There's a hole in it," says Schwartzman. "That's what a lot of this is about."