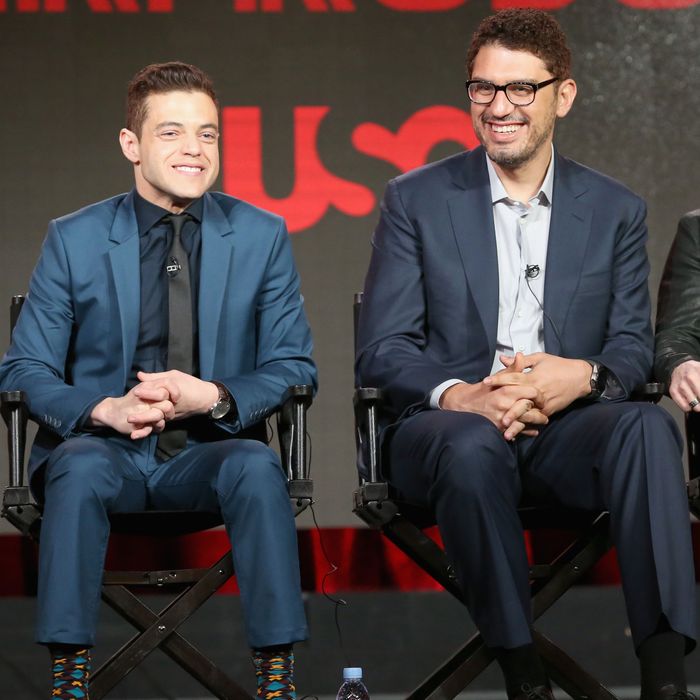 From left: Actor Rami Malek, creator/director Sam Esmail, and actor Christian Slater speak onstage during the Mr. Robot panel discussion at the TCA tour in Pasadena, California.
Photo: Frederick M. Brown/Getty Images
Hours after Mr. Robot nabbed two Golden Globes for Best TV Drama and Best Supporting Actor Christian Slater, Harrison Ford "smooched the heck out of my face and tried to walk off with the thing," Slater says, while Sam Smith kissed Carly Chaikin and told her he "adores" her. The two actors — along with star Rami Malek, actress Portia Doubleday, and show creator Sam Esmail — appeared at the Television Critics Association press tour in Pasadena, California, Thursday to celebrate the hit show's critically acclaimed first season and offer insights about the second season, which goes into production this spring. (Note: Spoilers on the first season ahead.)
The first-season finale ended with everyone's favorite hacker confronting his painful delusions. The new season will begin with that struggle. "The whole show has been about Elliot's emotional journey, and I really wanted to focus on that and less about the plot," Esmail said. "And so, for me, the headline of season two is: How does Elliot reconcile the fact that he's aware that he's been seeing this fantasy?" Even as the first season entertained viewers with several twists and turns, Esmail said he's not interested in "gotcha moments … Rami brilliantly plays Elliot in a way that he drops you into his psyche. So you're learning it with him. As long as that is organic and that feels real, then I think the twists will come from there. But it's not my agenda to keep shocking you. It really isn't."
Elliot's past — and when his delusions began, and whom they involve — will become clearer in the second season. "There will be a lot more backstory that we're going to show," Esmail shared. "The timeline is going to get a little clearer. Not 100 percent clearer, because what's the fun in that? But a little clearer." Malek said Esmail has shared "enough" with him to help him start preparing for his performance. "With this character, I have to prepare for anything at any given moment. I go through every direction as to what possibly happened to someone like this because in his head we never know what has happened. And I think having to trace back the truth and discover the truth ultimately makes him more complex to play — just trying to decipher what he's actually seen and where he's actually been. When I think about that, it kind of haunts me as a human being, having to do that. And that's the place he finds himself in approaching this next season."
Elliot is an unreliable narrator, and yes, there are other things he's shown viewers besides the identity of Mr. Robot that we shouldn't trust. After Esmail revealed that during the panel, Malek asked him, "Do I know? Do we know?" The answer: "No."
Slater and Malek shared when they learned the truth about Mr. Robot's identity. Slater suspected his character was a delusion from the first time he read the pilot script. "I thought the Mr. Robot character is very mysterious, and I remember I said to my agent, 'Do you think that guy's really there?' And he was like, 'Oh, come on, they'd never do that.' Then I went and had my first meeting with Sam and asked him point blank, and he said, 'Do your really wanna know?' And he told me the whole outline. I was so thrilled and excited, and I think it put us on the same page from the get-go. I remember Elliot throws his hands up at the end of the first episode, and I think I did the same thing."
Esmail also revealed the twist to Malek before they filmed the pilot. "I felt the same way — that's really cool, and I just hope we can keep it a secret, which is difficult when you're on set and you're telling other actors, 'Just try not to look at him,'" Malek explained. "You get enough actors on set that aren't part of this crew and you try to convince them there's some other reason why they can't look at him, people get suspicious.
Esmail and the writers are nearly done writing season two's ten episodes, and unlike the first season, Esmail will direct all of them. "I just have a very distinct visual style, and it's actually harder for me to collaborate when it comes to that aspect of the show," he said. "[USA was] terrified a little bit. But the show's look is so singular that it kind of makes sense. And actually, in a weird way, you're not going to believe this, but I think it's actually going to be easier on me."
B.D. Wong will reprise his transgender female character, but he'll be used "sparingly." "He was so amazing in the first season," Esmail said. "I would be stupid not to use him more this season. But I do have to use him sparingly because the thing that's great about that character is he's got a great mystery about him."
The well-curated soundtrack will be released sometime this year. "Mac Quayle just does an amazing job on every episode," Esmail said. "Music is obviously incredibly important. It's not the layer at the bottom of the track for me. It's something that stands out; it's the soul of the show, to a larger extent. And Mac just does a beautiful job. I wish we could put every track on there. We have it truncated to two CDs. I don't know when it's coming out, but you should definitely get it."