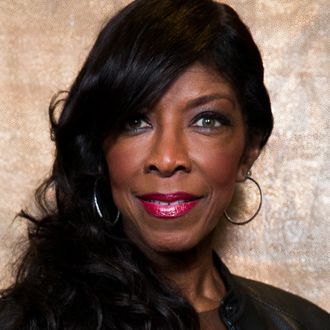 Natalie Cole.
Photo: Tristan Fewings/2014 Getty Images
Natalie Cole, the Grammy-winning singer-songwriter who followed in the footsteps of her late father, Nat King Cole, and proved to be a musical force in her own right, died in L.A. on Thursday. CBS News confirmed that the 65-year-old's cause of death was congestive heart failure. Cole had also battled other health issues, which in the past included substance abuse and more recently included hepatitis C and kidney failure. "It is with heavy hearts that we bring to you all the news of our Mother and sister's passing. Natalie fought a fierce, courageous battle, dying how she lived … with dignity, strength and honor," read a family statement, released to the media Friday. "Our beloved Mother and sister will be greatly missed and remain UNFORGETTABLE in our hearts forever."
The L.A. native began singing with her father during her childhood, but it wasn't until college she began seriously pursuing music. She first found fame in the 1970s as an R&B artist, with her debut album Inseparable, which had the hit "This Will Be (An Everlasting Love)" and gave her the momentum for such successful follow-ups as Unpredictable and Thankful, among others. Her crowning achievement, however, was Unforgettable: With Love, the multi-platinum tribute to her father and his material that notably featured their duet of the same name.
Over the course of a career that spanned nearly six decades and incorporated various genres, Cole was honored for her contributions to music with a total of nine Grammys, including ones for Best New Artist in 1975 and for Album of the Year, for Unforgettable, in 1991. She also released two memoirs and appeared on TV in the 1990s and 2000s, on such shows as Law & Order: Special Victims Unit and Grey's Anatomy. In 1992, Cole received a Primetime Emmy nom for a televised performance of her father's songs. Her most recent studio album, Natalie Cole en Español, came out in 2013.
In memory of her and her work, here's "Unforgettable":
This post has been updated throughout.