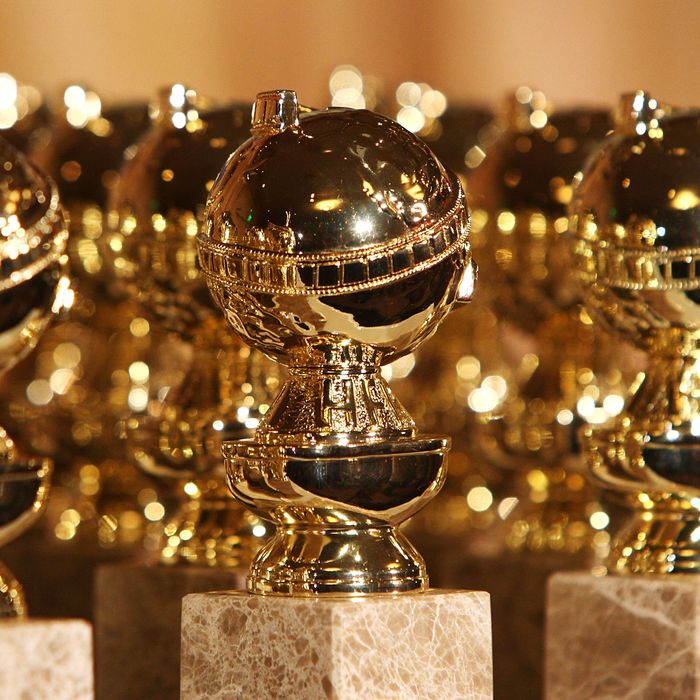 Photo: Frazer Harrison/Getty Images
This Sunday, NBC will spend north of $21 million for the privilege of airing what in many ways amounts to a very long commercial for Netflix, HBO, and a handful of other subscription-based TV services. Not literally, of course: The promotion of OPP (other people's programming) will come via the network's telecast of the 73rd annual Golden Globe Awards, a star-studded event that honors both movies and TV shows. Unfortunately for NBC, the kinds of shows the Hollywood Foreign Press Association favors these days generally don't air on broadcast networks such as the Peacock, or even basic cable channels. Instead, of the 56 TV nominations this year, more than half — 30 — run on pay networks, either linear (Showtime, HBO, Starz) or digital (Netflix, Amazon, Hulu). The five major ad-supported broadcast networks combined this year generated just 11 nominations, with NBC itself getting exactly zero shout-outs from the HFPA. Still, despite being shut out by its own awards show, NBC will probably be quite eager to renew its deal for the Globes before it expires in 2018. Here's why:
The Globes is still one of TV's biggest annual events — and thus a big moneymaker.
Even as ratings for most network series have suffered significant declines in recent years, the Globes has held steady: Roughly 20 million viewers have watched the last few telecasts. Among award shows, only the Oscars and Grammys do better. Obviously, this big audience will translate into plenty of people being exposed to pay-TV nominees such as Narcos and Transparent. But NBC will get something more valuable than buzz: money. Kantar Media in 2013 estimated the Globes pulled in north of $30 million in ad revenue for the Peacock. That number has likely inched up a bit in 2016. Per contract details revealed back in 2011 as part of a legal battle over the show, NBC shells out a bit more than $21 million annually for the Globes, which means it's likely netting at least $10 million from Sunday's show. Not bad for a single night of TV.
The right kind of viewers watch the Globes.
While networks these days are happy to get any kind of viewer to tune-in live (rather than via DVR), the big audience that watches the Globes is particularly valuable to NBC since it's comprised of an unusually large number of high-income viewers (read: people with money to spend). Last year's telecast, for example, had 58 percent more viewers from homes with annual incomes over $100,000 than the typical network show. Advertisers pay a premium to reach those kinds of viewers, which will help with the aforementioned ad rates. But NBC also happens to be a network that traditionally targets those upscale audiences, making the Globes a perfect match with the Peacock's programming profile.
Even if they're not nominated, NBC stars and shows will be front and center Sunday.
While most of NBC's ad time will be sold for top dollar to outside advertisers, the network will also reserve several minutes of commercial slots to promote its own shows. A network rep declined to say which NBC shows will get hyped, but it's a fair bet the network will promote midseason series such as Superstore and Shades of Blue and possibly You, Me and the Apocalypse. As part of the network's rights deal with the HFPA, NBC also gets to book a certain number of its own stars as presenters. This year, that means Jennifer Lopez and Eva Longoria, headlining Shades and Telenovela, will be handing out statuettes. Likewise, Andy Samberg, whose Fox show Brooklyn Nine-Nine is produced by NBC sister company Universal Television, is also set to be a presenter.
NBC's corporate siblings did much better with Globes voters.
While the mothership may have been passed over, other parts of the NBC Universal empire will be well-represented at Sunday's kudos. Mr. Robot, which airs on NBCU-owned cable giant USA Network, is up for three awards, including best drama. Aziz Ansari is nominated in the comedy-acting category for his Netflix show Master of None, produced by Universal Television. And five feature films produced by Universal Pictures — including Trainwreck and The Danish Girl — combined for a total of ten movie nominations. There's no guarantee, of course, that NBC Universal properties will always clean up at the Globes. Given the company's many tentacles, however, and Universal Television's continued push to produce for networks other than NBC, it's likely the entertainment conglomerate will always have something to celebrate at the Globes. That alone isn't reason to keep paying big bucks for the show, but it does offset the pain of NBC being passed over. 
Tentpoles matter.
At a time when viewers are being bombarded with literally hundreds of scripted TV shows, and increasingly opting to bypass traditional linear TV for viewing on demand, broadcast networks such as NBC desperately need big events that woo audiences back to their real-time tent. Sporting events, particularly the NFL, have become essential. But networks also are pushing to event-ize as many of their entertainment programs as possible. This explains why NBC invests so much energy in its holiday musicals (such as last month's very successful The Wiz Live), and even its experiment with live comedy on Fridays (Undateable). Later this month, Fox will mount a live version of Grease and turn its revival of The X-Files into a monthlong mini-series. A big awards show like the Globes fits right into this strategy: It's giving audiences a reason to stay invested in the network-TV ecosystem. Sure, NBC's programming team will probably groan every time the star of a Netflix or Amazon show prattles on about how "amazing" it is to work in the brave new world of TV. But for three hours at least, the Peacock will be the center of the TV universe. More than ever, that's invaluable.