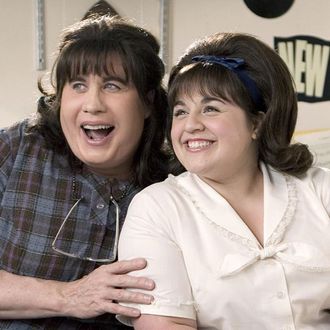 The 2007 Hairspray film.
Photo: New Line Cinema
NBC can't stop the beat, even if it wanted to: Fresh off the widespread acclaim for its version of The Wiz, the network announced at the TCA tour on Wednesday that its next prime-time theater event will be a live production of Hairspray, Marc Shaiman and Scott Wittman's musical adaptation of the 1988 John Waters film. Hairspray apparently triumphed over other ideas, like The Music Man, which producers Craig Zadan and Neil Meron told THR would have been too dependent on perfect casting for Harold Hill, and A Few Good Men, which had complicated rights issues. In the end, the candy-colored '60s musical was a perfect choice to head off the inevitable online snark: You're gonna feel so bad about tweeting mean things about the nicest kids in town.